Nigerian transgender, Anthony Daniel Nsikan popularly known as Jay Boogie is currently seeking a second chance at life.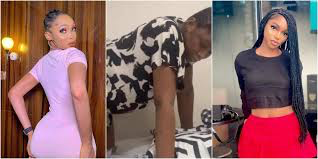 According to him, his health is "deteriorating" following a Lipo 360 and BBL surgery at CGE Healthcare after which he was "abandoned" by the health facility.
Also, he solicited for funds from the public to support his treatment, as he has exhausted his savings and could no longer afford the ₦600,000 he was spending daily on dialysis.
Also, just recently, a report circulated requesting for more support and donations stating that Jay Boogie needs a kidney transplant.
However, CGE healthcare has come out to counter the narrative put out by Jay.
they claim he doesn't need a kidney transplant at the moment and is "progressing positively".
This contradictions on this sensitive matter puts Jay Boogie in a "bad light" before those who have donated and those planning to.
Indeed, it appears they don't know what or who to believe.
Even though Mr Nsikan called out CGE healthcare for lying to the public, netizens couldn't help but express their anger and broken trust; saying he didn't need to give misleading information to get funds from the public.
As we are unclear on what actually the situation is on this matter, the source of information we can lean towards is from experienced doctors who can share their view on related cases.
A verified Twitter (X) user and doctor with the name @The_Bearded_Dr_Sina shared on his timeline, five reasons why some of Jay Boogie's health claims may be false.
"You Can't Do Dialysis Everyday"
"It's obvious there has been a lot of lie in Jay Boogie's stories.
1- saying you do dialysis everyday. It is not possible. You can't do it everyday. Max 2 to 3. ( Dialysis also has its own detrimental effects)
2 Saying you spend 600k per Dialysis. Big lie. Checked in with my colleagues that work in highbrow hospitals, None charges up to 600k
You Should Read: Why Brazilian Butt Lift (BBL) Could Kill A Lady
3 Saying on your IG that you were doing Plasmapharesis for Kidney Injury from the surgery. Lie. No one uses Plasmapahresis to treat Kidney Injury
For context- Plasmapharesis is a procedure in which where in a way remove some components of the blood and exchange by passing through membranes. There are clear reasons and diseases Plasmapharesis is used for.
By the way, you claim you developed an infection. Overwhelming infection is one of the considerations you don't want to do Plasmapharesis, and of course an unstable patient
"Jay Boogie Didn't Show Lab Test Results"
4 You claim you have Kidney Injury. But not one result has been showcased to even buttress this fact whether it happened or not. We know as Physicians the lab tests that shows Kidney Injury. None has ever been showcased.
5 You claimed you need New kidneys for an acute Kidney Injury you just developed. Oh no! You missed a bomb there. People don't just get Kidney transplants for Acute Kidney Injury. I guess the PR Stunt person didn't Google the management of Acute Kidney Injury well.
"I'm not downplaying the fact that he could have had complications during or after the surgery..this which can happen.
But the story Jay is trying to sell to get Public piety has a lot of loopholes and is looking performative and exaggerated in a bid to extort money from the public.
It is okay to crowd fund and solicit funds from the public when necessary but please try yo be honest. These tales which aren't tying up is also putting disrepute to the medical profession."
Also Read: Jay Boogie: No Current Plans For Kidney Transplant – Hospital Says
As we all know that, there are two sides to a coin, we can't draw conclusions yet until Jay Boogie clears the air himself.
However, we wish Daniel Nsikan a quick recovery and hope he gets back on his feet soon.
See Jay Boogie's Condition Here