Would you imagine that operatives of the Nigerian Air Force (NAF) would walk into the office of the Economic and Financial Crimes Commission (EFCC) in Kaduna and free fraud suspects? 
Now the EFCC says they will face charges.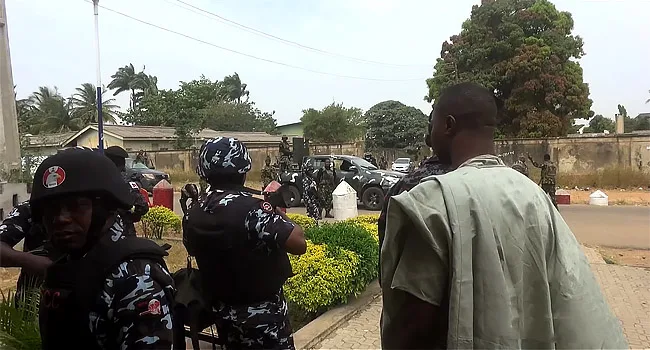 The spokesperson for the EFCC, Dele Oyewale, told journalists of this plan to press charge in Abuja on Saturday.
EFCC operatives had arrested five suspects, NAF officers, on Monday at an Inn and Disney Chicken Eatery in the Barnawa area of Kaduna after "credible intelligence".
The suspects, Favour Itung, Rachael Ande, Zuleiman Haruna, Abubakar Ismaila and Solomon Olobatoke, were arrested without any incident.
Communication Breakdown
However, four days after the arrest, some NAF operatives stormed the EFCC office in an attempt to allegedly free the suspects from detention.
The accused include:
Lawal Abdullahi
Chukwuma Chidi Christian
Alfa Suleiman and
Emmanuel Ekwozor, air force personnel
Chidera Anuba and Joseph Tokula, two students of Nigerian Air Force Institute of Technology.
The EFCC, therefore, released the arrested NAF officers to the NAF Provost after they had been duly profiled.
To the agency, there was a communication breakdown between the leaderships of the two agencies.
However, in a statement on Saturday, Oyewale confirmed that the erring officers would be arraigned before the court.
This would be after the conclusion of the investigation into the incident.
No One Is Above The Law
Also, he stated that no one is above the law, adding that due process would be followed in bringing the case to a conclusion.
You May Like: Trials Of Ajaero: Who Ordered The Attack?
The statement read: "The Nigerian Air Force (NAF) personnel released on administrative bail by the Kaduna Zonal Command of the Economic and Financial Crimes Commission, EFCC, on Friday, November 17, 2023, will be charged to court at the conclusion of the ongoing investigation.
"The officers were released to their Service in strict adherence to the bail procedures of the Commission.
"The Commission reiterates the fact that no one is above the law.
"The due process will be followed in bringing the case to a conclusion."