A DSS officer has allegedly taken things to the extreme on behalf of a complainant.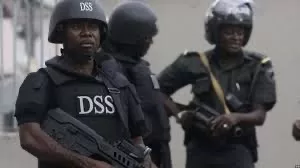 Now, he will have to face the consequences of his actions.
Men of the FCT police command arrested the yet-to-be-identified officer of the Department of State Security (DSS) for allegedly firing a gunshot at a tailor in Garki market in Abuja.
It all started like a move of prestige, to show the tailor that there is consequence, if he chooses to disappoint customer. Indeed, the intention was not to shoot.
Sadly, security agents in Nigeria know how to take things extreme and do the unneedful.
Again, one will wonder if the DSS is now wearing the cloak of SARS.
According to eyewitnesses, a disgruntled customer had taken some DSS officers to the tailor who failed to deliver on a job he was contracted for.
The Shot
Things took a drastic turn and the DSS officer allegedly fired a shot at the tailor which hit the tailor and another lady in the market.
Both victims are currently being treated in the hospital.
However, the traders were about to lynch the officer when men of the police force stepped in and arrested him.
The angry traders stormed the police post demanding the officer's release. In anger, they destroyed the police post as well.
DSS Officer Under Heat
Reacting to the incident, the DSS in a statement released by its spokesperson, Peter Ifunanya, said an investigation into the incident had commenced.
"The attention of the Department of State Services (DSS) has been drawn to an incident.
"It occurred a few hours ago (today, 7/9/2023) between its staff and a mob at the Garki Market, Abuja.
"Information at the disposal of the Service was that its FCT Command responded to an SOS from their field operatives who allegedly came under a mob attack in the said market.
"Consequently, the Service has commenced an investigation into the matter.
You Should Read: Court Stops DSS From Detaining Emefiele For Longer
"The Service will not hesitate to mete out proper disciplinary measure (s) to its staff.
"This is if found culpable or running foul of Standard Operating Procedures on dealing with a member of the public.
"Details of the inquiries will be communicated to the public as soon as possible."
Will It Work? How President Tinubu Plans To Solve Nigeria's Problems