How do you see this President Bola Tinubu's EFCC graft issue? Do you know it began a day after the swearing-in of the new president?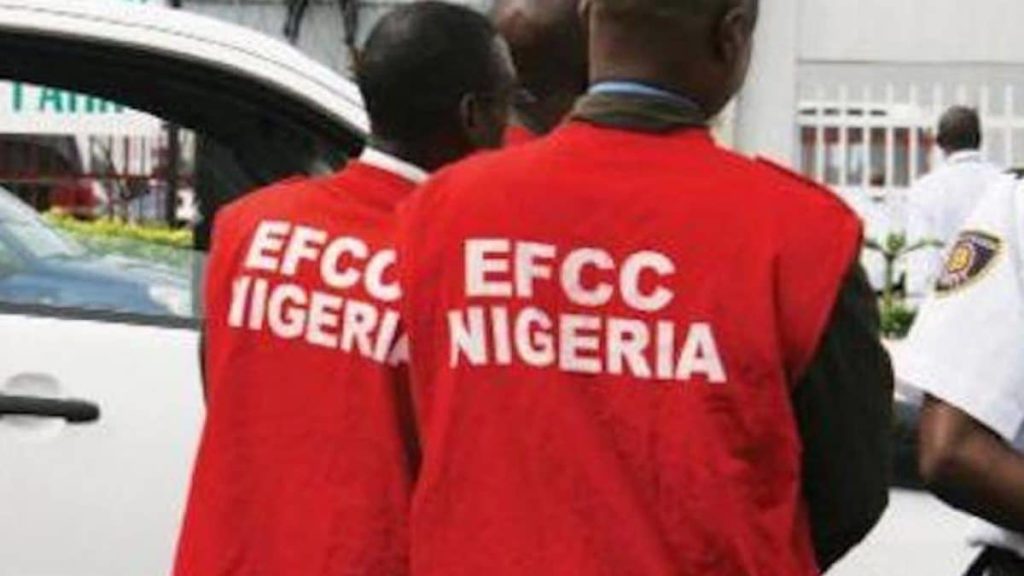 Surely, you know. But when the Department of State Security (DSS) blocked-off the office of the Economic and Financial Crimes Commission (EFCC), people thought it was about office space dispute.
In fact, one staff of the EFCC said: "There's been a running battle between us and the DSS over who owns the office because the office was used by them before the EFCC came on board and it was handed over to us".
Tinubu had had several meetings in the defence house with security agencies and had put some requests over.
Only a few persons saw the issue brewing, but that office space issue was setting-off what Nigerians are now seeing.
A Good Sign 
President Tinubu is kind of coming in with a body language that we saw in Muhammadu Buhari. That was when he took over from Goodluck Jonathan in 2015.
It is a good sign of what the man on the seat desires for his fatherland, but on that anti-corruption side, there are many adversaries.
We were all here when every volcano burning from Aso Rock began to go off after the president returned from a long UK-visit that was not for vacation, but for medical need.
Several years down the line, Nigerians moved from seeing the president's body language, to looking for it, this time, endlessly.
Corruption On Chariots
Corruption took chariots and rode on the streets like a victorious king.
What changed the mind of a man so made up for the flushing of corruption which he believes deprived him of victory in previous elections before he emerged?
Well, that is a story for another day.
Search deep down in your heart, look at the health of the man and then think of your intent desire to live long.
You will understand how older men want to live longer. Really, life is sweet.
But let us continue.
Again, several years down the line, Nigeria came near to election period and there seemed to be this renewed drive by Buhari's administration to destroy that chariot cruise and take hold of corruption.
But was there really a target? Was it done for the good of Nigerians or to check a man?
Burden Of Vote Buying Saga
The administration was said to have sensed that some politicians were really huge on funds and will throw them in the streets, triggering a gathering of Nigerians; like the ants to honey.
But the grass will surfer when two elephants fight and surly Nigerians did suffered.
It was months of a cashless society. A period a developing nation tried to beat economic possibilities by proving 'you can put the cart before the horse and get a good ride'.
Well, we all know how all of that ended. Businesses died. Banks' apps bled, with failed transactions, on all lips.
Sadly, people trekked; yet lost money to the increase in cost of goods.
This Woman's video will help you understand better.
---
---
Well, if you choose to continue reading this piece of mine, you are in for a good time on the internet.
The drive to stop politicians from using money-power to influence people was taking hold of.
'EFCC Blows ₦32.4 million Corruption Funds'
Some good blows came from the EFCC.
But majority of Nigerians know that some politicians in the race for the presidency are masters in the game of politics.
However, among them all, one stands out for me.But I am not so much of his fan, until he proves me wrong.
During the weeks running up to the Presidential election, in fact, few days to the election, on February 24 to be precise, the EFCC took hold of some huge sum of money.
That money, ₦32.4 million, was taken in no other state than Lagos. That is a strong hold of President Bola Tinubu.
Although, Obi proved Lagos residents are a generation of young Nigerians who want a real change and not loyalty to any man.
Unlike the alleged money for vote buying in Rivers State, the EFCC failed to tell Nigerians who the money was taken from in Lagos, a position that contravenes the law that established it.
It reveled that a member of the Peoples Democratic Party was with the money in Rivers State.
'Hidden Bullet In The Foot'
But that of Lagos was only labeled as a suspect, with the agency shooting itself in the foot.
Now its leadership is having a taste of that bullet.
Bola Tinubu waded the storm that cashless policy had caused for Nigerians and it was a good experience for him to see what Nigerians face when they don't have money anywhere to lay hold on, as a result of bad governance.
In those cashless weeks everyone in Nigeria fell to a balance to feel some reality that the lowly have lived in for 'donkey years'.
Tinubu took the oath of office and what you could call an innate desire to clean Nigeria began to burn.
It will be easy to say that the seat of the Nigerian President is hot enough to make a man go after corruption.
However, the man's ability to hold that flag flying for the necessary years of cleansing to happen, depends on two things.
One; the President's selfless intentions and then a clean slate in the past.
He that must come to equity; must come with clean hands.
From the body language, one will easily say that the President is seeking the good of all.
But will his health hold the fight together.
Or will his selfish interest deprive him of a clear focus to Nigeria's Canaan land?
It is easy to say that it is recompense time for a few heads in the midst of all of this arrests and questionings.
Whose Money And Where Is It? 
One of the things that Nigerians are not seeing is this. The money that the EFCC took from Lagos before the Presidential election, whose money was it?
Where is the money?
I know that most of the EFCC's cases against top politicians go to the trash can for want of evidence (1).
Really, these dismissals make the mind wonder how the EFCC will lack evidence, yet head to court.
Is it Corruption on the part of the anti-graft agency?
Well, now, the gun is facing the agency.
However, another things is whether the trigger will be pulled or not.
A mission that has selfish interest and bias as the horses dragging the chariot will soon disappear with the dust of time.
We wait and see how this fight against corruption and body language will last.
Nigerians will be good for it.
However, that will depend on whether the President holds the fight high with integrity.
Also, time will judge it whether it is for the good of Nigerians or not.
EFCC: See Why Bawa Was Invited By DSS