The Department of State Services (DSS) under the administration of President Bola Tinubu appears to be working round the clock to hunt down corrupt officials.
The irony here is that, Ex-president, Buhari vowed to bring an end to corruption. In fact, above every other thing, Buhari was determined to hunt every corrupt politician.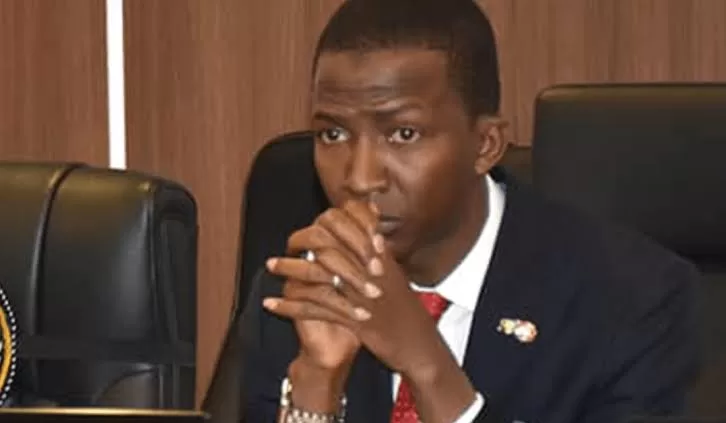 However, recent developments and exposures suggest otherwise.
That administration seem to have been a safe haven for corrupt officials, and the DSS is all out to prove it.
DSS Visits Bawa's Home
The home and office of Abdulrasheed Bawa, the suspended Chairman of the Economic and Financial Crimes Commission (EFCC), have been searched by agents of the DSS.
This follows allegations of mismanagement, misappropriation, and diversion of proceeds from the sale of forfeited assets.
The suspended EFCC Chairman is currently in the custody of the DSS in Abuja.
He is under investigation for alleged financial impropriety during his tenure as EFCC chairman.
Bawa was suspended indefinitely as EFCC chairman by President Bola Tinubu on June 14, and shortly afterwards, the DSS took him into custody.
The Search
According to reliable sources, DSS agents searched Bawa's home in Gwarinpa, Abuja, in the presence of his wife and children.
An inside source revealed that DSS agents also searched Bawa's office on the same day.
They provided a search warrant for both locations.
"DSS operatives stormed the EFCC Headquarters in Jabi on Saturday to search the office of the suspended chairman. But they presented a search warrant.
You May Like: EFCC Arrests Ex-Benue Gov. Ortom, Alleges Fraud
"Another set of DSS operatives also searched Bawa's home in Gwarinpa, and they met his wife and children in the house during the search.
Further Investigation
"Bawa's close associates at the office were also invited for questioning this week, and they're being probed on allegations of mismanagement, misappropriation, and diversion of proceeds forfeited assets sold under Bawa's watch."
However, an anonymous government source indicated that the DSS had not yet pressed charges against Bawa, as their investigation was ongoing.
"The DSS is yet to charge him to court because they're still carrying out their investigation."
Also Read: "Stolen Mandate": Peter Obi Will Spend 8 Years In Court – Akpororo
Meanwhile, reports indicate that the DSS has obtained an ex parte order to extend Bawa's detention in their facility during their continued investigation.
A government source suggested that this move by the DSS was to deter Bawa from challenging his detention in court.
See why Bawa was invited by the DSS in the video below.