Damilola Adeparusi, popularly known as chef Dammy, has come out to announce that she will be going for a 150-hour cooking marathon in July 2023.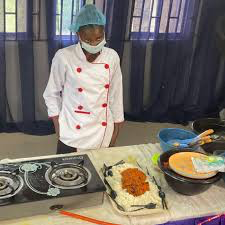 This is coming after she just concluded 120 hours of cooking in Ekiti on June 14.
The 300-level undergraduate of the Federal University of Oye Ekiti (FUOYE) spoke with newsmen in Ado-Ekiti, the Ekiti State capital, on Friday.
She confirmed reports making the rounds that her just concluded 120-hour cooking marathon was not registered with Guinness World Records.
"After the support I have received from fans, well-wishers, and many highly notable individuals in society.
"I, Adeparusi Damilola, popularly known as Chef Dammy, and my team have decided to hold another cook-a-thon program next month.
Have You Read: Cook-A-Thon: I Cooked As An Exercise Not To Beat Hilda Baci- Chef Dammy
"This time, it will be held for 150 hours, and it will be duly registered with Guinness World Records.
"Chef Dammy is coming back!"
The 22-year-old chef added that she is open to exploring other opportunities and experiences.
Watch The Video Here