Nigerians are known worldwide for their resilient spirit, as they set out to achieve whatever their minds conceive.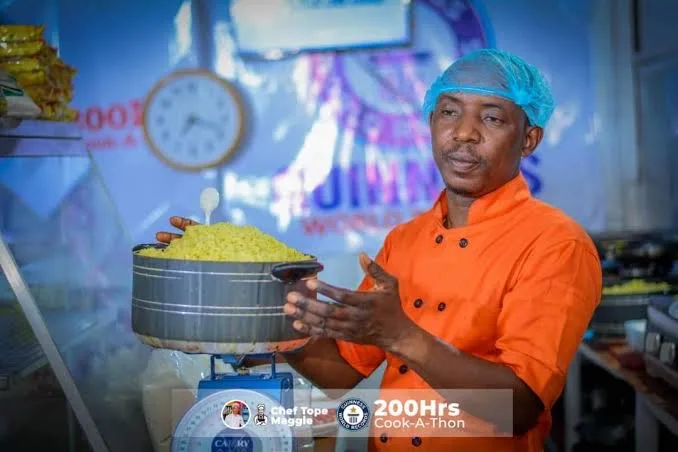 Chef Maggie is a Nigerian chef who has embarked on the journey of reclaiming the Guinness World Records title for the longest cooking hours by an individual formerly held by fellow Nigerian, chef Hilda Baci but lost to an Irish chef, Alan Fisher just recently.
Temitope Adebayo, better known as Chef Maggie has reportedly broken the Guinness World Record for the longest cooking marathon by an individual, surpassing Irish chef, Alan Fisher's 119-hour and 57-minute record.
When It Started 
According to Oyo State Government's post on Twitter (X), Chef Maggie completed a 200-hour cook-a-thon which started on Thursday November 9, 2023 by 6:31pm and ended in the early hours of Saturday, November 18 by 2:31 a.m.
"We join the good people of Ogbomoso and, indeed, Oyo state to congratulate Prince Adebayo Adedeji Temitope @cheftopemaggie on completing his 200-hour cookathon.
"We look forward to the final verification and award of the new world record by the Guinness World Record @GWR team."
The cook-a-thon exercise took place at the Ogbomoso Recreation Club, opposite LAUTECH College of Health Sciences, Isale-General, Ogbomoso, Oyo State.
Prior to this time, shortly after Hilda Baci's cooking marathon some months back, the Oyo based chef had announced that he will set out to beat Hilda's record.
Also Read: Another Ibadan Chef To Break Guinness World Record (Photos)
Go Chef Maggie!
Tope currently awaits the confirmation of his record by the GWR as congratulations and celebration over his feat continues.
He prepared over 355 meals and fed the less privileged alongside the crowd that came to cheer him up.
There were performances from guest artistes to entertain his supporters even as dignitaries in Oyo also went to the venue to support their own.
Tope Maggie is a graduate of Federal Polytechnic, Efe, Osun State, where he studied Hotel Management.
His name "Maggie" was inherited from his mother, under whom he learnt cooking.
Have You Read: Irish Chef Alan Fisher Breaks Hilda Baci's GWR For Longest Cooking Hours
Tope currently manages a chain restaurants in Ogbomoso.
Watch This Video Of Chef Maggie During The Cookathon