Instagram's Threads app, a text-based social media tool positioned to rival Twitter, is now available in over 100 countries including Nigeria.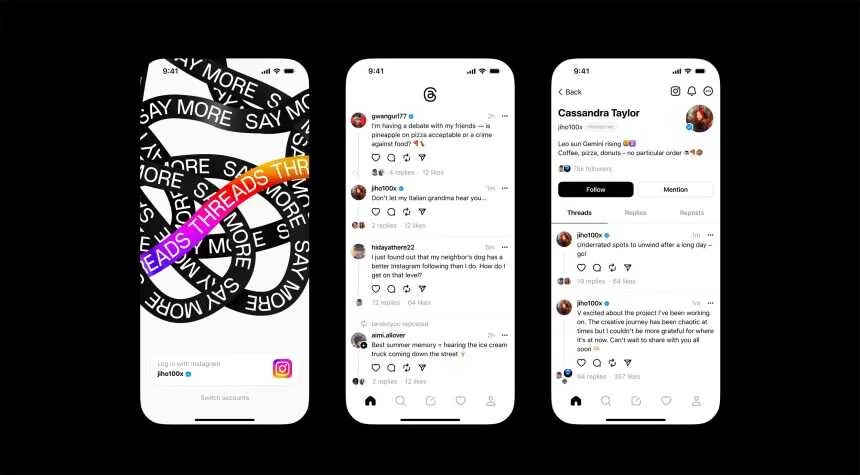 The software, which was published a day early on Wednesday evening, July 6, 2023, allows users to sign up directly from their Instagram accounts.
That means that once it is available globally, more than 2 billion monthly active users will be able to import their accounts onto Threads.
On Wednesday evening, July 6, 2023, Meta CEO Mark Zuckerberg stated on Threads that the app "passed 2 million sign-ups in the first two hours."
Here's everything we know so far about threads.
It has a 500-character limit.
You can't pin thread.
If you delete your Thread account, your Instagram account also goes with it, so it's best to deactivate it.
The picture quality is amazing when you upload it; it doesn't reduce quality.
There is no DM feature yet.
The hashtag feature isn't available yet.
You can share threads directly to your Instagram feed or stories. You can also share to Twitter.
You can hide offensive words like you do on Instagram. To do this, go to settings (this is at the top right of your profile), then tap on privacy, and then keywords.
You can also set a time limit on thread.
You can select who can reply to your threads, just like you do on Twitter.
You can also hide like counts, like you do on Instagram. For now, all your notifications are in one place.
No ads are in sight for now.
Thread doesn't show how many people you follow; it only shows how many followers you have.
You can upload up to 10 items at once on threads, like you do on Instagram.
Accounts that users have already blocked on Instagram will also be automatically blocked on Threads.
Meta is also working on making Threads compatible with ActivityPub.
Instagram's community guidelines will be enforced on Threads, and users can report one another for violations.
Other features in the works include direct messaging, trending topics and an "improved" search function.
Now that you know the facts about the new Instagram, will you sign up for it?
And if you have signed up for it, tell us what you think about the app.
Here's another great read for you: Facebook's Meta To Launch 'Threads'-App That Rivals Twitter