NLC: The anger of the Nigerian Labour Congress (NLC) is really evident in their actions.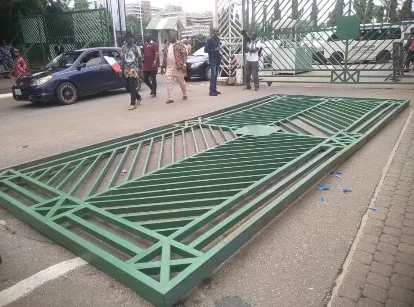 It appears the hardship faced by Nigerians by policies made in the Tinubu-led administration has pushed them to the wall.
Organised Labour members broke down the first gate of the National Assembly complex and forced their way into the premises.
NLC President, Joe Ajaero, and Trade Union Congress (TUC) President, Festus Osifo, had earlier asked security operatives at the legislative building to open the gate to allow the angry workers express their displeasure.
Following the failure of the security officials to adhere, angry protesters pulled down the gate and subsequently moved to the second gate of the Assembly Complex.
NLC Protest
The Organised Labour and their affiliate unions, today, kicked off a protest in the Federal Capital Territory (FCT), Abuja, and other states of the Federation.
The protesters, in their hundreds, convened at the Unity Fountain, from where they marched to the NASS Complex.
You May Like: Peter Obi: Was His Phone Stolen In Court?
Senate President Godswill Akpabio is expected to address the protesters ahead of today's screening of ministerial nominees.
Watch The Video Below