Do you know that relocating or securing a new apartment is a very difficult task in many parts of Nigeria? In Lagos, the cost leaves you with wonder if house owners (landlords) know you are a salary earner? 
In Lagos, you may need to go on a 21-day fast for God to open your eyes when you are house hunting. Those who did of recent will have bitter-sweet stories to share with you. 
Adequate preparations must have been made cash-wise because the house you see today might already be occupied when you come back.
All of these boil down to one simple fact, there is serious housing deficit in Nigeria.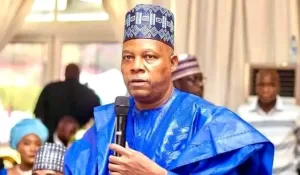 Past governments have observed in the past that the issue of housing deficit is a germane one that requires intervention.
Sadly, none have resolved it, and people wonder if it is rocket science.
To the new administration and the second man in command, Kashim Shettima, it is simple.
He believes Nigeria can resolve it's housing deficit problem with ₦21 trillion.
Have You Read: I Will Buy Atiku Goats So He Can Rear Them – Shettima
This position was made known to Nigerians at the ground-breaking of a five-hundred-unit housing estate in Sokoto State.
According to the VP, Nigeria has a housing shortfall of about 28 million and the oil-rich nation needs ₦21 trillion to address the issue.
Implications 
This simply means that more than 20% of Nigerians are likely to be facing a housing problem.
It also means that the rates for rentable apartments would or has tremendously spiked.
On the other hand, considering the current economic situation in Nigeria, tenants are certainly in trouble if laws are not made to curtail the excesses of landlords.
Shettima Applauds Ahmed Aliyu 
At the event, the Vice President, however, commended Governor Ahmed Aliyu of Sokoto State for his efforts at tackling the housing needs of his people.
You may Also Like: Bukayo Saka Funds Housing For 26 Families
The project, located in the Wamakko Local Government Area of the state, will cost the state government ₦7.3 billion.