The Oba Akran area of Ikeja, Lagos State was thrown into a state of turmoil as a light single-engine airplane burst into flames after crashing on the road.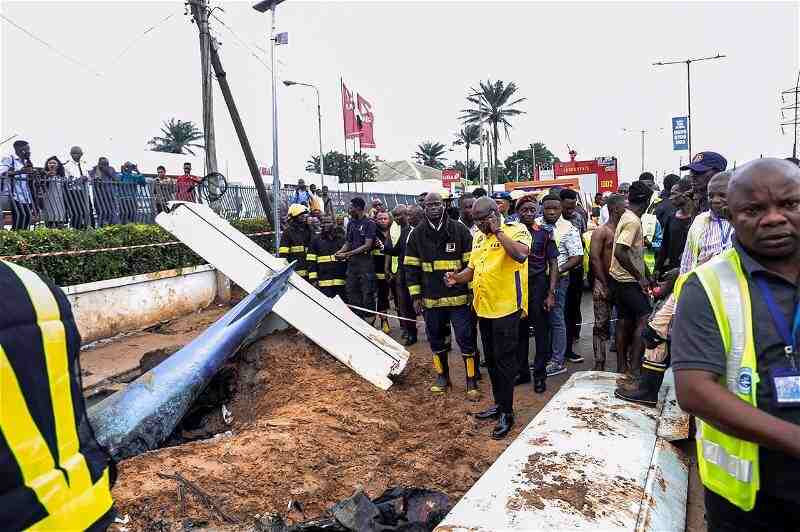 The crash happened opposite the United Bank for Africa around 3.30 pm.
It was learnt that only two persons were on board; the pilot and a passenger.
The Nigerian Safety Investigation Bureau, while confirming the incident, in a statement, said the name of the aircraft is, Jabiru J430.
It has Nationality and Registration Marks 5N-CCQ, operated by Air First Hospitality & Tours, and "was on a test flight" when the incident happened.
Investigation Has Begun
The Director, Public Affairs and Consumer Protection, NSIB, Tunji Oketunbi, said the agency had "commenced investigation into the accident."
It was gathered that the crash sent the area into panic following the explosion as residents were seen running helter-skelter as they scampered for safety.
A video of the incident that circulated online showed the aircraft crashing on the road and immediately bursting into flames.
The Director, Lagos State Fire and Rescue Service, Margaret Adeseye addressed the situation in a message.
The Crash Took No Life
"The crash occurred on Oba Akran Avenue, Ikeja, and no life was lost.
"Two persons were rescued with varying degrees of injury."
The Director General, Lagos State Emergency Management Agency, Dr Olufemi Damilola Oke-Osanyintolu gave a report as well.
Also Read: Tinubu Submits New List of Ministerial Nominees to Senate
"The agency has activated its disaster response plan to the above incident which occurred around 4pm."
Saved By A Miracle?
An eyewitness, who spoke on condition of anonymity, said a white Hilux vehicle escaped being involved in the crash by whiskers.
"The passengers in the craft were rescued. The Hilux was coming after the craft, it escaped crashing into the fire."
Another source said the aircraft hit a pole and struggled in the air before bursting into flames.
Coordinator, South-West Zonal Office of the National Emergency Management Agency, Ibrahim Farinloye spoke at the crash scene.
Propeller Engine
"It's a propeller engine. The search and rescue retrieved some personal belonging of the two members."
Have You Read: Subsidy Removal: Cooking Gas Prices Crash By Over 100%
On his part, the state Commissioner of Police, Idowu Owohunwa, who also visited the scene, described the situation as unfortunate.
He added that policemen were immediately deployed to the scene to assist emergency responders.
Watch The Video Below