Wall Street's top AI bets are Microsoft, Nvidia & Caterpillar – poised for AI-driven growth.
Microsoft's ChatGPT integration & Nvidia's semiconductor expertise are driving AI success.
Caterpillar's surprising AI investment for autonomous equipment operation.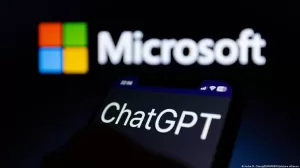 Artificial Intelligence (AI) can revolutionize the world and bring new fortunes to Wall Street.
Tech experts believes that Generative AI will have the most impactful breakthrough in the last decade.
The transformative technology is expected to champion AI-based products and services, and AI bets on Wall Street.
Microsoft leads the AI revolution
Microsoft is a company that has made significant investments in AI and boasts of a bullish technical chart.
The stock recently showed an uptrend, testing all-time highs around $340, indicating that the rally might just be getting started.
Microsoft has successfully monetized AI by incorporating ChatGPT into its productivity suite.
The technology giant enhances user productivity and attracts more customers to its Software as a Service (SaaS) model.
Moreover, Microsoft has expanded its AI services to the Azure cloud platform.
It is also offering innovative solutions like Bot, cognitive, and machine learning services.
Microsoft's chairman and CEO, Satya Nadella,  is committed to leading the new AI platform shift.
Nadella, wants to help customers leverage the Microsoft Cloud to maximize the value of their digital investments while ensuring safe and responsible AI adoption.
Nvidia, the powerhouse in semiconductors and AI
Nvidia, a leading player in the semiconductor industry, has emerged as one of Wall Street's top performers in 2023.
As companies increasingly incorporate AI into their business plans, Nvidia is poised to be one of the primary beneficiaries.
The stock reached a new 52-week high above $400, indicating significant potential for further growth.
With core competencies in providing chips for the gaming and cryptocurrency industries.
Nvidia has consistently remained at the forefront of various tech revolutions.
The company's ongoing investments in AI research and development and strategic partnerships position it as a frontrunner in the AI race.
Caterpillar to become a surprise pick for AI investment
While Microsoft and Nvidia may seem like obvious choices, Caterpillar's inclusion as a promising AI player might come as a surprise.
However, the heavy equipment manufacturer has been ahead of the curve, making substantial investments in AI for the autonomous operation of its equipment.
As interest rates remain elevated, this could create a headwind for growth stocks and a tailwind for industrial stocks like Caterpillar.
Investors are advised to watch a confirmed break above $260, which could signal further upside potential for CAT.
By adopting AI systems, Caterpillar aims to enhance its competitiveness by leveraging real-time data from its equipment to develop autonomous vehicles and robotics.
Additionally, AI will be crucial in improving product design and development processes.
Caterpillar can also explore new services and solutions for its construction and mining customers, such as safety solutions and advanced monitoring and control mechanisms.
Artificial Intelligence represents the next big thing on Wall Street, potentially revolutionizing various industries and creating new opportunities for savvy investors.
Microsoft, Nvidia, and Caterpillar are three promising AI players.
Microsoft's extensive investments in AI and its successful integration of ChatGPT into its productivity suite position it for sustained growth.
Nvidia, a powerhouse in semiconductors, will benefit from the increasing incorporation of AI in businesses.
In conclusion, Caterpillar's foresight in investing in AI for autonomous heavy equipment operations makes it a surprising but solid pick in the AI race.