The military junta in Niger, led by General Abdourahmane Tchiani, has announced the end of the mandates of ambassadors to four countries.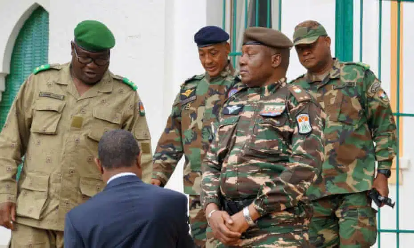 The spokesman of the military junta said this in a statement read on the country's national television.
The coup leaders said the mandate of the Nigerien Ambassadors to France, Nigeria, Togo, and the United States have been terminated.
The Termination
"The functions of the extraordinary and plenipotentiary ambassadors of the Republic of Niger to France, Nigeria, Togo and the United States are terminated," the he read.
Also, the Niger's junta said it was scrapping military pacts made between Niamey and France, following last week's coup.
You May Like: Ebola Tinubu: Niger Protesters Give President Tinubu New Name
"Faced with France's careless attitude and its reaction to the situation, the National Council for the Safeguard of the Homeland decided to scrap the cooperation agreements in the field of security and defence with this state," the spokesman for the military leaders said.