A controversial video showing protesters in the Niger Republic wielding a banner displaying an altered image of President Bola Tinubu has caused a stir on the internet.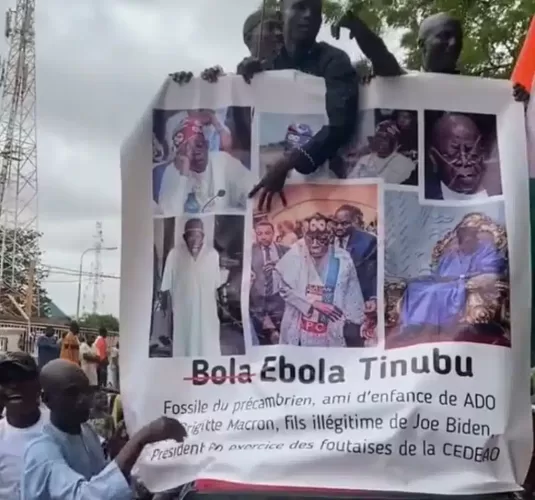 The displayed image of President Tinubu, who also serves as the Chairman of the Economic Community of West African States (ECOWAS) Authority of Heads of State and Government, was marked with cancellation signs.
Ebola Tinubu
In a notable act of protest captured in the video, demonstrators crossed out "Bola" from the banner and replaced it with "Ebola," thus renaming the Nigerian President.
The protesters took turns to slam the pictures of President Tinubu on the banner.
This is coming at a time ECOWAS is seeking to address the coup that overthrew President Mohamed Bazoum's government in Niger.
Delegation To Niger
President Tinubu on Thursday sent a delegation to Niger.
The delegation was headed by former Nigerian Head of State, General Abdulsalami Abubakar (Rtd).
It includes the Sultan of Sokoto, Muhammad Sa'ad Abubakar III and the President of the ECOWAS Commission, H.E. Omar Alieu Touray
Tinubu urged the delegations to engage all stakeholders intensively to reach a conclusive and amicable resolution in Niger.
Did You Miss? Full List: President Tinubu Second Ministerial Nominees
He stressed that the focus should be on democracy and peace, rather than adopting other nations' geopolitical positions.
See the protest video below.
They used all the beautiful pictures of Bola Tinubu and changed his name to "Ebola Tinubu." That name too deep😭😭😭 The people of Niger Republic no get joy at all😭 pic.twitter.com/TQJDvmzGne

— Jaypee (@JaypeeGeneral) August 3, 2023