In Nigeria, there's a lot happening right now that might make you feel overwhelmed and worried about the future.
It's essential to acknowledge these concerns, but it's equally crucial to preserve your mental health and joy amid the chaos.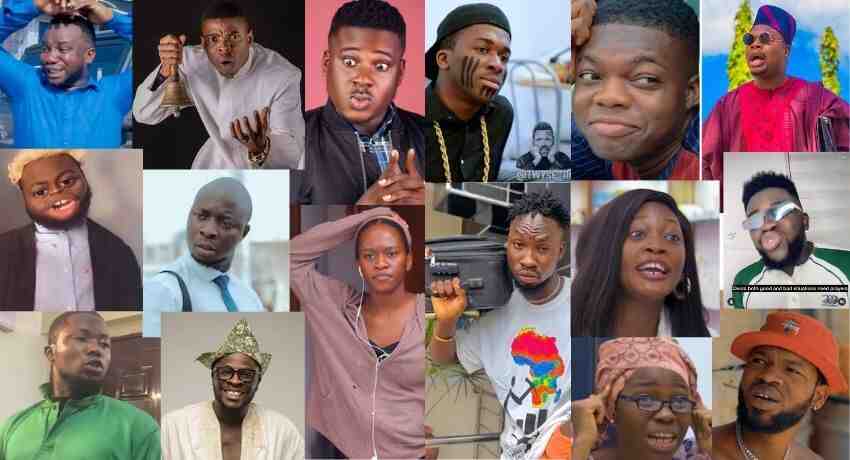 Instead of letting worries consume you, why not find a moment of distraction and entertainment to ease your mind.
As renowned author Mark Twain once said, "The human race has only one really effective weapon, and that is laughter".
Laughter, indeed, has a remarkable effect on our well-being.
It can lift our spirits, reduce stress, and bring a smile to our faces.
One fantastic way to experience this is by watching funny videos and skits created by talented individuals.
Here, we've compiled a list of five Nigerian skit makers who will help take your worries away and bring some laughter into your life.
1. Destiny Osarewinda
Destiny Osarewinda, better known by his stage name Dezny, is a Nigerian actor and content creator who enjoys creating content across various platforms.
As a content creator, Destiny is known for his versatility and ability to incorporate various elements into his work, such as music, dance, and art.
He strives for perfection in his creations. Destiny's intelligent approach to creating content has gained him a strong following and fan base.
View this post on Instagram
2. Umezulike Chidiebere Anthony
He is popularly known as Anthon Umeh and he is a professional comedian, TikTok Star and content creator.
He has worked with other popular comedians and content creators like Xploit Comedy, Uche Leona Chidolue, aka Uche Leona, Fari Ferrari, Lasisi Elenu, aka Lasisielenu Comedian, and a lot more.
View this post on Instagram
3. Uchechukwu Divine Obia
Funnyurch is a well-known stand-up comedian. Creator of Compere Content. Video editor, scriptwriter, and Youtuber
View this post on Instagram
4. Isaac Ayomide Olayiwola
Also known as Layiwasabi, he is a content creator, online comedian, and Influencer who gained influence through the unique style of his comic videos.
View this post on Instagram
5. Muhammed Gilmore
Muhammed Gilmore is one of the fastest-growing skit makers in Nigeria.
One of the reasons his skits are so popular is because they are incredibly relatable to Nigerians.
He has a unique talent for capturing the humour in everyday situations and experiences that Nigerians can identify with.
View this post on Instagram
It's crucial to find moments of joy and laughter even in challenging times.
Watching these skit makers' videos can be a perfect way to take a break from worrying and improve your mental well-being.
So, the next time you feel overwhelmed, grab your phone or computer and let these talented Nigerian comedians bring a smile to your face.
Here's another great read for you: BBNaija All Stars: Adekunle Emerges As First Head Of House (HoH)