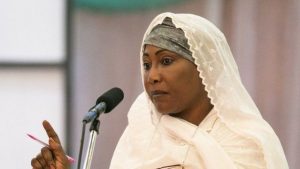 A former Director of the Presidential Campaign Council of the ruling All Progressives Congress(APC), Naja'atu Mohammed, has said that the party's vice presidential candidate, Kashim Shettima is a sponsor of terrorism.
Mohammed made this allegation during a television interview on Arise TV.
She further revealed that a notorious terrorist, Kabiru Sokoto, was back then found and arrested in the home of the former Borno State governor turned vice presidential candidate.
IBrand TV had earlier reported that the former APC chieftain left the party claiming she couldn't watch the party present an unfit candidate.
The APC, however, countered that she left the party because he was expecting "free money" from the presidential candidate, which she did not get.
Naja'atu said, "Especially as it concerns security, you must have an enabling environment before you do anything, so you cannot take someone that is virtually senile and another person that has been associated on several occasions with funding terrorism. That is Kashim Shettima.
"We should not forget Kabiru Sokoto, one of the most wanted terrorists, was found and arrested in his (Shettima) house.
READ ALSO: Naira Redesigning Is A Mistake — Kwankwaso 
"These are people that have severally been accused of harbouring terrorists and why should Shettima be visiting and making solidarity with a policeman that is being tried for drug trafficking. Why?" She questioned.
"So when you begin to put these things together, you begin to understand why Nigerians must retrieve their country. We can't allow this to happen," Naja'atu added.
Continuing, she said, "Let us understand and not forget that this terrorism, this banditry, this carnage is not just happening by mistake, it is a multi-billion dollar industry because it takes a lot of money on defence budget, it has a lot to do with the sale of drugs, it has a lot to do with illegal and illicit mining and illegal bunkering.
"Look at the areas that are generally affected by this. The North-East, for instance has the blue diamonds that is a strategic mineral, you have oil at the Chad Basin that is being explored right now but illegally.
"What of in Zamfara State, Zamfara has more Gold than Ghana but gold from Zamfara is being traded in Dubai. There is a market in Dubai called 'Nigeria gold market' go and check. So who is doing this mining? Most times they are the governors, the people in power in connivance with foreign mercenaries."
READ ALSO: INEC Choses February 4 To Conduct Mock Voters Accreditation 
Revealing further, she continued, "Remember when they said there is a no-flight-zone in Zamfara, why should there be a no-flight-zone when Zamfara doesn't even have an airport but aircrafts land and take off from Zamfara.
"Let me tell you something else, every container that comes from China ends up in Zamfara. Why? Because the soil in Zamfara has all the strategic minerals that you can think of. So when these containers come they pack the soil. A bag of soil from Zamfara is today sold at N5,000, so they need to displace the people to allow them to continue with their mining. It's multifaceted."