The social media space has been buzzing with reactions over the emergence of The Gambia as the winners of the 2023 Jollof competition at the West Africa Food Festival (WAFFEST) held in Lagos.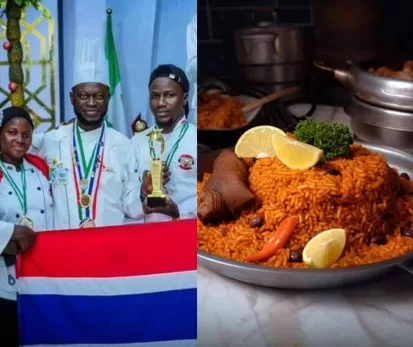 It came to many as a surprise, this is because one would ordinarily expect the Nigerian or Ghana Jollof to be the best.
You see, Nigeria and Ghana Jollof have over the years received numerous hypes, making this rice recipe very popular in Africa.
But when the time came to defend the hype, Nigeria, Ghana and other countries lost to The Gambia.
The Food Competition
The Gambian team, led by the award-winning Chef Saikou Bojang, beat 15 other countries, including Nigeria, Ghana, Senegal and Liberia, to emerge champions.
WAFFEST food competition, which ran from August 9-14, featured four master classes, food and wine tastings.
Reactions
Following the development, some Jollof rice fans worldwide took to the social media platform X to share their thoughts about the competition.
You May Like: 84-Year-Old Man Puts Wife To Death For Denying Him S3x
Success has so many fathers. So, many persons celebrated The Gambia's win, while others expressed their disbelief at that feat.
See some of the reactions below.
HelloPrincess wrote, "Ok, so Gambia won the best jollof rice competition. Nigeria & Ghana need to stop yapping now".
Amie Bright wrote, "The Gambia stays winning this Jollof rice competition, three times in a row gotta mean something ukno. The small population is our only problem; that's why we're not out there!! Lol smh".
Ava Dadonness tweeted: "The Gambia is the champion of Jollof!!! Now Nigeria, Ghana, and Liberia can hang it up".
Thatmarieaj wrote: "I worked with Chef Bojang @SenegambiaHotel, and he makes a mean meal Well done, team Gambia".
Hussain Dada tweeted: "I don't wanna hear no more JOLLOF RICE debate on this app ever again! Gambia leads the way. Nigeria and Ghana in the mud".
Rachel Renee wrote: "So Gambia took 1st place in the Jollof Rice Competition in Lagos?! I know my people having a fit".
Sheabuttaqueen wrote: "The jollof from another country other than Gambia and Senegal doesn't compare".
Ciatta Doe tweeted: "The Gambia beat Liberia in a Jollof competition??! FOOLISHNESS".
You May Like: Ansu Fati Wants To Leave Barcelona!
Obinna wrot: "The Gambia taking the top spot in the jollof competition is as preposterous as a fish riding a bicycle. A glitch in the matrix of culinary expectations. Very hard to fathom!".
Queen Etonde: "I think Nigerian Jollof is not even top 3…. Senegal, Gambia, Liberia, and Cameroon are the top 4 (in that order.)".
Eman tweeted: "wtf u mean Gambia won the competition for best jollof rice???".