If Wole was aware that the heated argument with his wife would turn out to be the beginning of a life-long agony, he would have walked away.
The police have arrested him for allegedly killing his wife, Rafiat Okewole, by slamming her head against the wall during an argument over upkeep money.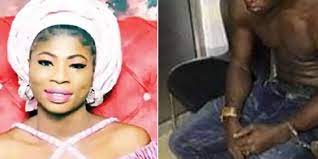 Could this be an outcome of the current hardship in Nigeria?
But the law will not look in that direction, as Wole and many other Nigerians are in it together.
About the unfortunate incident, it was gathered that the suspect and his 30-year-old wife had been living separately on Odelusi Street in the Ijoko area of Ota, Ogun State.
A few days ago, his wife had thought of visiting him to collect money for her children's upkeep money.
She eventually embarked on that journey on Sunday and tragedy struck. The woman's life was cut short during a heated disagreement that transpired.
Her husband lives in the Gas Line area of Ijoko, Ogun State.
Tragedy Struck
The deceased was said to have been having a running battle with her husband over his alleged failure to provide for her children.
According to sources, efforts made by neighbours to save Okewole's life after the incident failed, as she was confirmed dead in the hospital where she was rushed to for medical attention.
It was further learned that her 41-year-old husband was arrested after the case was reported at a police station by one of the siblings of the deceased.
Ogun Man Kills Wife
Akinola Shittu, one of the brothers of the deceased, said he was devastated by the news of his sister's death.
"My elder brother called me on Sunday evening to inform me that Rafiat had died.
"Rafiat was not living with Wole as of the time of the incident because she was Wole's second wife. Though his first wife also packed out earlier in the year,
"She went there to ask for money for the children's upkeep.
"One of her children who accompanied her to the house told neighbours that her father hit her mother's head on the wall."
Boast Of Shame
Also, the deceased's elder brother, Yusuf, said he reported the matter at the Sango Divisional Police Headquarters.
"My wife was the one that called me on the telephone and informed me that she heard that my sister died after her husband hit her head against the wall of his house.
Also Read:Bazoum: Niger's President Shares Stories Of Bad Treatment In Jail
"I rushed to the hospital at Ijoko, but she was already dead, and I learned that Wole was still boasting that nothing would happen to him after killing my sister."
Confirming the incident, the spokesperson for the State Police Command, Omolola Odutola, affirmed that Wole was in their custody.
Watch As Nigerians React To The Killings In Plateau