Simisola, a Nigerian singer and songwriter, is getting a share of what it means to be a mother and to age as well. 
She says her eyesight deteriorated after she had her daughter, Adejare in 2019.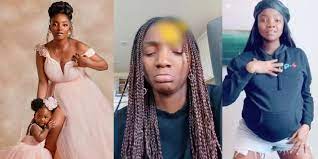 In a mix of English and pidgin English, Simi made this known via a Tiktok video.
The Duduke crooner said she noticed the change in her eyesight about three years after Adejare was born.
"I have a little bit of a substory for you, my daughter is three years old.
Since I gave birth to her, my eyes have not been the same.
"I feel like I had a 20/20 vision before I got pregnant, but not anymore.
"My eyesight is gone on an excursion underground.
"Three months ago, I was like something is not tallying here.
"I was like seeing double. I went to do an eye scan and whatever.
"Everything was just turnioninion."
Simi said that she went to the doctor and she tot a medicated glasses prescription.
"So I went for another eye exam and the doctor said I have to get glasses.
"I got a message few days ago that my glasses were ready. I'm on vacation now so I don't have access to it."
Many women who have given birth can relate with what Simi is saying.
You see, during pregnancy, the body produces hormones that support growing baby and causes fluid retention.
This extra fluid changes your eyes in ways that may result in blurry vision.
Have You Read: Simi Pens Sweet Words To Mom On Her Birthday
In most cases, these changes are temporary and go back to normal after the baby is born. However, in some cases, the changes can be permanent.
Singer Simi has been open about her postpartum struggles on multiple occasions, including in a June 2023 interview with Cool FM.
She said it took her two years to find herself again after having her daughter, but in her third year of motherhood, she has finally found a balance between her career and her family.
Watch The Video Here