New revelations point to the former Minister of Aviation, Hadi Sirika, allegedly misleading President Muhammadu Buhari and Nigerians about the readiness of the new national carrier, Nigeria Air, just before he left office.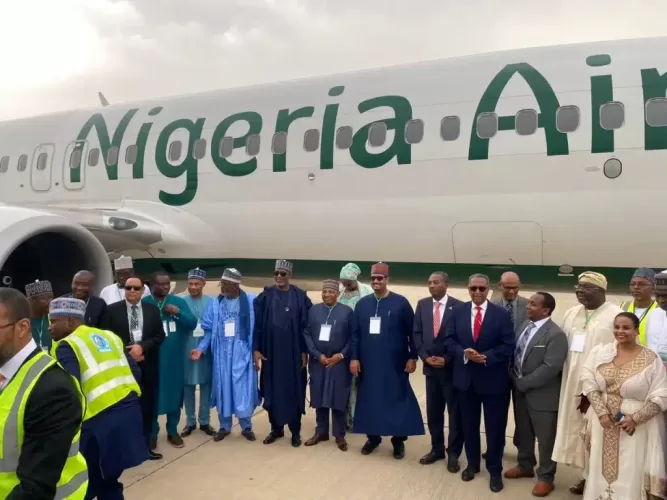 An Aviation World source spoke with Vanguard.
This source revealed that Sirika falsely assured the President that the airline was ready for launch without revealing it hadn't received full certification yet.
Reports also suggest that Sirika impeded Nigerian Eagle, another airline, from obtaining crucial certification, ostensibly due to their colour scheme and name resembling that of the yet-to-be-launched Nigeria Air.
The source indicated that Sirika had unsuccessfully tried to use the Airline Operators Certificate (AOC) of Nigerian Eagle for Nigeria Air.
Personal Gain Above National Interest
Critics are claiming that Sirika was more focused on personal gain than the national interest.
This controversy has sparked widespread public interest, with stakeholders calling for an investigation into Sirika's actions and the operations of the agencies under his supervision.
Stakeholders also criticised Sirika's leadership, alleging favouritism in appointments, a disregard for the rule of law, and overstepping his authority over aviation agency boards.
For instance, despite ongoing litigation involving Nigeria Air, Sirika declared that no sensible court could ground the airline.
The Contract
He went on to contract Ethiopian Airlines to provide an aircraft, painted in Nigeria Air colours, which was flown into the country for unveiling.
This was despite the Airline lacking the necessary certification from the Nigerian Civil Aviation Authority (NCAA).
Following these developments, the House of Representatives Committee on Aviation summoned the Permanent Secretary, Ministry of Aviation, Dr Emmanuel Meribole, the Managing Director of the airline, Capt. Dapo Olumide, and shareholders for an emergency meeting concerning the project.
Fraudulent Project
After the meeting, the legislative body branded the project as fraudulent and vowed to dig deeper into the circumstances surrounding it.
Meanwhile, stakeholders have continued to express their dismay over the secrecy surrounding the project.
An Aviation Analyst, Olumide Ohunayo, in a chat with Vanguard lamented that the Federal Executive Council (FEC) always give approvals to every document presented by the former Minister without proper scrutiny.
"There is a need to go back to all of those processes and probe every document he presented.
"The agencies under the ministry need to be audited, their staff strength needs to be looked at.
"The reason being that Sirika during his term compounded the agencies with extra staff, without going through the necessary regulations and federal characters.
"Nigeria air inevitable is a fraud that must also be probed.
Pure Deception And Scam
"It was pure deception and scam. The logo in question was unveiled in 2018, at Flamborough, United Kingdom, what Sirika did was a static display on the 26th of May, 2023.
"We were informed that they are coming in with an airline that will start flying, but what we got is nothing to write home about.
"If we look at the period Sirika came onboard, about six months into the Buhari-led administration.
"Ibom Air, United Nigeria Airline, Green Africa, Value Jet came onboard, Rano Air just came onboard, Nigeria Eagle was already coming up with three aircraft on the ground.
Nigerians Anticipation
"Nigerians were waiting in anticipation of its launch after getting an AOC, there was no static display.
"The day they were supposed to kick off operation, the Minister went behind to ensure they did not get their necessary certification to fly because their colour and name were similar to the stillborn Nigeria Air.
"They made an attempt to use the AOC of Nigerian Eagle that they had held on their documents.
"But unfortunately for them, Arik got judgement two weeks before then against Asset Management Corporation of Nigeria, AMCON.
"So they could not go for that AOC again because those aircraft with AMCON belongs to Arik.
"AMCON which is under the federal government has Arik and Aero Contractor due to bad debt, why don't you build your National Carrier from there?
You May Like: Tribunal Adjourns Hearing As INEC Witnesses Fail To Show Up
"Even AMCON offered, but the Minister instated that he wants to have his own.
Challenges Of Partnership
"For instance, Qatar Air had wanted to partner with Nigeria but due to the challenges they met here, they left for Rwanda.
"There, they got a 49% stake and paid about $1.2 billion to the Rwanda government.
"How much has Ethiopian Airlines paid for the 49%?", the analyst said.
Also Read: Victor Osimhen Drops Transfer Hint Amid Links To Man Utd
Also, the Principal Partner, Avaero Capital, Sindy Foster, said: "this is very poor indeed and a complete reflection of the entire shabby plan by the Federal Government".