When poverty and hunger in Nigeria hold the mind of an individual it could make the person do things without reasoning.
One will think that past explosions that happened while people scooped  petrol would teach people a lesson and make them run away when tankers fall. 
That is not the case.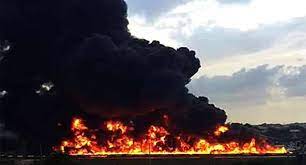 The current hike in fuel prices has made gasoline the new "gold", which could be the reason people risked their lives to get it cheaper or even free.
Sadly, the axiom that nothing good comes easy played out when a tanker explosion occurred in Ore, Odigbo Local Council, Ondo State, on Sunday, February 23, 2023.
People were busy scooping petrol when the explosion occurred and a number of individuals died in the incident.
Spark From A Phone
An eyewitness claims that the fuel was ignited by a spark from a phone held by one of the individuals scooping petroleum that spilled from a tanker, which led to the explosion.
The eyewitness, Nireti, revealed that the incident took place in Ore near a petrol station on Showboy Road.
She explained how once the car lost control and its contents spilled onto the road, people rushed to scoop fuel.
The informant, a local shopkeeper, also mentioned that three children and a pregnant woman were among the over 15 that died in the fire incident.
Have You Read: Billions Lost As Fire Guts Lagos Port?
"I was in my shop when I heard the tanker fall.
"Additionally, rain was falling.
"Fire broke out when people were adding fuel due to a spark from a phone.
"Over 15 dead bodies have been found, three of them youngsters.
"The fuel buyer who was pregnant also passed away; she still has the money."
Olufumilayo Odunlami-Omisanya, the state's police public relations officer, indicated when contacted that she had not yet received details of the incident.
Watch The Video Below