Labour Party gubernatorial candidate in Imo State, Athan Achonu, has accused the State Governor, Sen Hope Uzodinma, of lacking capacity to conduct credible local government polls.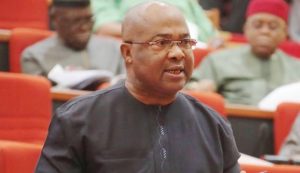 Achonu said Udodinma's sudden plan to hold local government council polls four months ahead of the State governorship polls was in a bid to plant his loyalists as council chairmen ahead of the polls .
Achonu also noted that Principal Officers of the recently inaugurated Imo State Independent Electoral Commission (ISIEC) were all members of the Imo State All Progressives Congress (APC).
The LP gubernatorial candidate spoke through Engr Chime Nzeribe, Director-General of his campaign organisation, at a press conference in Owerri, the state capital on Wednesday.
Also Read: Why Nigeria May Not Get New Ministers Till September
There, he said that as a true Democrat who has been an advocate for the autonomy of the local government councils in Nigeria, he has nothing against conducting of council polls in the state, but is at a loss that a government who has almost exhausted its tenure is desperate to conduct council polls.
The statement read, "For the avoidance doubts our principal and governorship candidate of the fastest growing party in Nigeria today the Labour Party, as a true democrat and a firm advocate of local government autonomy and total freedom, will never under clear circumstances pick issues with any action, including election geared towards enthroning the independence and unencumbered operations of the third tier system in the state.
"However, we are at a loss why a government that has almost exhausted its constitutionally guaranteed four years in office, has woken up on the eve of its exit, to perform a very crucial task it bluntly ignored when it had all the time in the world to do so.
"The choice of this seeming odd hour to conduct a local government election underscores the fact that it's being motivated by second reelection desperation, and not the collective welfare and well-being of the Imo electorate, especially the millions of rural dwellers."