Inter Miami-bound Lionel Messi has admitted that his Argentina retirement "will be soon" after entering "the last years" of his career.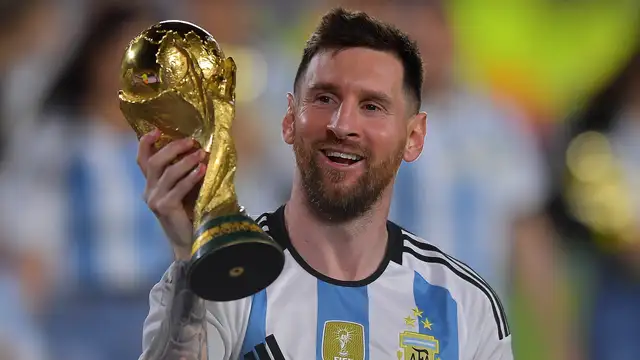 Messi firmly vowed to carry on playing as a champion in albiceleste colours after leading Argentina to their third world championship in Qatar.
But he had stated before the event that he wouldn't return for the world championship in 2026, and he reaffirmed that position last month when he announced his upcoming transfer to MLS team Inter Miami.
Now, during an interview on TV Publica, where he was questioned by his Argentina national teammates, he once again stressed that he is in the final lap of his career and his international retirement "will be soon", but refrained from putting a date onto it.
When asked when he will stop playing for the Argentina national team by Exequiel Palacios, Messi replied: "Honestly, I don't know until when.
Lionel Messi Has Completed Football
"I think it will happen when it has to happen. After having achieved everything recently, the only thing left to do is to enjoy.
"God will say when that moment will come.
"Logically, because of my age, I'm sure it will be soon. But I don't know exactly when will be the right time.
"I think about the day-to-day, enjoying everything beautiful. We had to go through very hard times in the national team.
"We were fortunate enough to be World Cup and Copa America champions. It's time to enjoy," he added.
Meanwhile, Paulo Dybala asked Messi if he is human, and whether he gives much thought to how much he has achieved in the game.
Read more: Two Reasons Barcelona Ruled Out Bringing Neymar Back
"When you are always competing, when you always have goals ahead of you, you don't value much what you really deserve, what you are achieving," he said.
"I am at a moment in my career where I enjoy everything that happens to me and I value everything much more because I know that these are the last years.
"But I think that when I retire and I'm not playing anymore, I will value all of this much more.
"And even more so the fact of being a World champion, which will last a lifetime, especially in a country like ours, that is so fond of football, so grateful for it."
Messi's comments indicate that he has played all of football and simply wants to relax.
However, the era of a great legend is coming to an end.
DIFFERENCE BETWEEN PURE WATER AND SACHET WATER: IT'S FUNNY HOW PEOPLE THINK