The Third Mainland Bridge will be shut for two consecutive sundays.
This is to minimize the inconveniences faced by motorists in the road.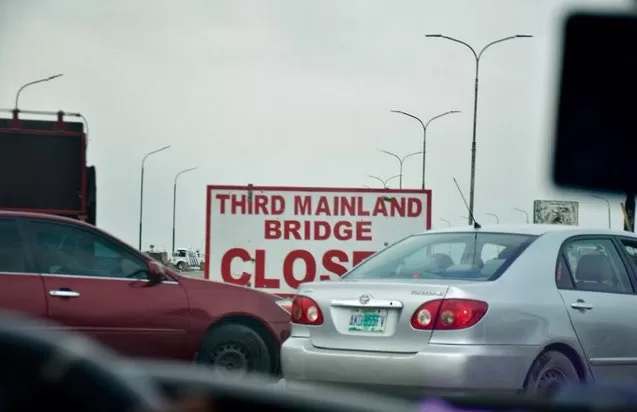 The announcement was made by the Lagos State Public Works Corporation (LPWC) in collaboration with the Federal Ministry of Works and Housing.
The Permanent Secretary, Ministry of Transportation, Abdulhafiz Toriola, made this known on Thursday.
He said that plans had been concluded regarding palliative works on the failed sections of the road.
The Cry
Motorists and commuters had cried out to relevant authorities to aid them in preventing possible loss of lives and property.
This is due to fatal accidents often experienced on the bridge occasioned by several potholes in the axis.
Toriola explained that the palliative works were scheduled for two Sundays.
The two days are Sunday 17 and Sunday 24, September, 2023, between the hours of 7.00 a.m. to 7.00 p.m.
Strict Execution
To him, the proposed works will be strictly executed in two phases.
Phase one will focus on only the most critical sections on the Iyana Oworonshoki inward Adeniji Adele/Lagos Island.
You May Like: Mohbad: Five Life Lessons Portable Shares From His Death
Consequently, the state government released a travel advisory to ensure seamless traffic movement in the area.
Alternative Routes
Toriola advised motorists to ply the following alternative routes made available during the rehabilitation works.
Scene 1, Lagos-Ibadan Expressway, Alapere/Ogudu axis inwards Lagos Island will be diverted towards Gbagada-Oshodi Expressway to link Ikorodu Road/Funsho Williams Avenue to access Eko Bridge and Lagos Island.
For scene 2, motorists from Lagos Mainland going through Herbert Macaulay Road (Adekunle axis) inwards Lagos Island via Third Mainland Bridge will be diverted towards Muritala Mohammed Way to use Carter Bridge to link Lagos Island.
He further urged motorists to be patient and observe safety measures during the palliative works on the asphalt pavement of the bridge.