When you hear that Nigeria's debt profile is huge, it does not really make sense until you see figures.
For most countries loans are helping them achieve their capital projects and everyone is thriving based on those inputs.
But in Nigeria, people often wonder what the government does with the loans.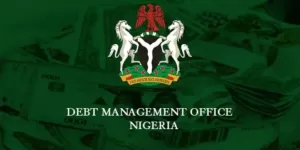 Indeed, a simple comparison of the level of development in Nigeria of the 60's and the 70's and Nigeria of now will show a wide gap that will leave your mouth wide open.
When people who saw that era talk of a great period when Nigeria was economically buoyant and self-reliant, those stories sound like fairytales of a land far, far away.
In 1977, Nigeria hosted the world to a Festival of Art and Culture (FESTAC 77). There was economic boom from agricultural produce being exported across the world.
It was around that period that Nigeria discovered she was richly blessed with crude, abundance came in and suddenly, Nigeria was rich.
External Debt Stock
Because of the huge resources discovered, politicians stopped thinking and being responsible and became more concerned about selfish gains, making greed the order of the day.
Government after government borrowed money in hard currencies, heaping the burden on every new administration and the masses.
Now, Nigeria, has been plunged into debt as a result of too much looting, squandering of the borrowed funds.
According to the Debt Management Office, Nigeria's total external debt stock as of June 30, 2023, is approximately $43.2 billion.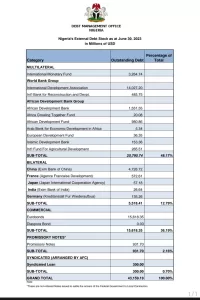 Indeed, Nigeria appears to be owning every organisation and nation willing to offer loans to the leaders of the nation.
List Of Debts
Under the World Bank Group, Nigeria owes the International Development Association about $14 billion and the Int'l Bank for Reconstruction and Development about $485 million.
Under the African Development Bank Group, Nigeria owes the African Development Bank about $1,56 billion; Africa Growing Together Fund, $20.08 million and African Development Fund; $980.86 million.
Also, Nigeria is indebted to Arab Bank for Economic Development in Africa $5.34 million; European Development Fund, $36.35 million.
Furthermore, Nigeria's debt to Islamic Development Bank, and the Int'l Fund For Agricultural Development are $153.36 million and $265.51 million respectively.
Nigeria Owes IMF About $3.3 billion.
The West African country also owes international financial institutions – World Bank Group, African Development Bank Group and International Monetary Fund – $20.8 billion as of the period in review, according to data from the Debt Management Office.
Have You Read: No More Money To Settle Judgement Debts — SGF Cries Out
The one-time African giant owes China (Exim Bank of China), which is its largest bilateral creditor $4,7 billion; France (Agence Francaise Development), $572.61 million.
Also, it owes Japan (Japan International Cooperation Agency), $57.18 million; India (Exim Bank of India), $26.64 million and Germany (Kreditanstalt Fur Wiederaufbua), $135.26 million.
It owes $15.6 billion in Eurobonds, $931.70 million in promissory notes and $300 million in syndicated loans.
All of these funds were obtained at different times.
Meanwhile, the President Bola Tinubu's administration had said it would not borrow to fund the economy.
However, the Vice President recently said Nigeria obtained a loan from AfDB to fund agriculture, with production of wheat as the crop of focus.