It appears breaking Guinness World Records (GWR) is now the new "gold" in Nigeria, as many are rushing to achieve one feat or another to gain recognition.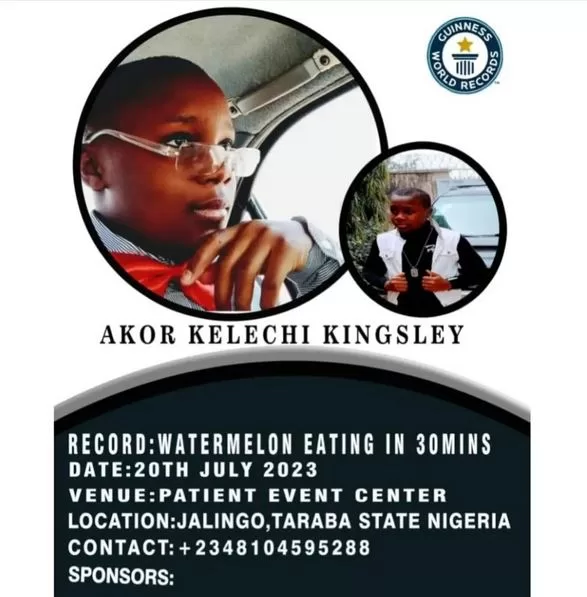 Ever since Hilda Baci broke the Guinness World Records during her cooking marathon, GWR has been experiencing an influx of Nigerians attempting to break different records.
A teenage Nigerian boy, Akor Kelechi Kingsley, has set a new Guinness World Record for consuming the most quantity of watermelon in 30 seconds.
The 17-year-old consumed 750 grams of watermelon fruit, challenging the previous record of 675 grams set on Thursday, July 20.
André Ortolf of Augsburg, Germany, set the previous record for the most watermelon consumed in 30 seconds on August 4, 2018, when he consumed 675 grams.
Akor followed due process with Guinness World Records by submitting his entry and receiving approval from GWR before he set out on his mission.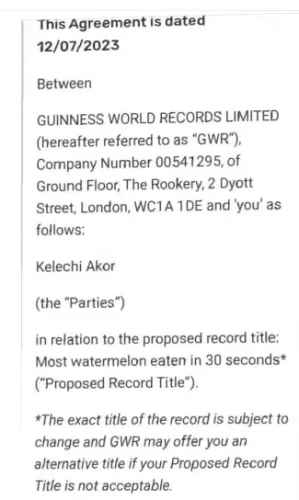 In a video shared, Akor was seen devouring slices of watermelon as the audience marveled at his determination after he consumed 750 grams in half a minute.
You Should Read: Lady Joyce To Break Guinness Records For Longest Massage
Meanwhile, following the surge in attempts to break world records, Guinness World Records has revealed that they have received about 1,500 applications from Nigerians alone.
The GWR says it is excited about the increased interest from Nigeria, and they are looking forward to reviewing the applications and seeing what amazing feats Nigerians can achieve.
Watch The Video Here