The battle to restore democracy in Niger Republic may not be ending soon. While the Economic Community of West African States (ECOWAS) insists that democracy is the only way, the Niger Junta maintains its stand.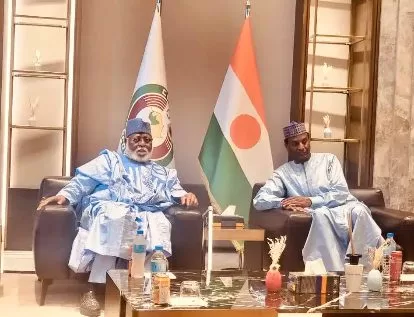 This continues to point the ECOWAS towards one direction, 'military intervention', a move many have cautioned President Bola Tinubu against.
Now, a delegation from the ECOWAS has arrived in Niger Republic for talks with the military officers who seized power.
According to AFP, a plane carrying the delegation landed in the capital Niamey at around 12:00 pm on Saturday ahead of talks to return the country to democratic rule.
Message Of Firmness
A source close to the latest delegation disclosed that the ECOWAS representatives would send "a message of firmness" to the army officers and meet Bazoum.
The delegation, which also includes the Sultan of Sokoto, Muhammad Sa'ad Abubakar III went to Niger to engage in fresh round of negotiations with the military junta in the country under the leadership of General Abdourahmane Tchiani.
Earlier this month, ECOWAS delegation led by Abubakar failed to meet ousted President Mohamed Bazoum and the coup leader, General Abdourahamane Tiani.
Standby Force
The ECOWAS has agreed to activate a "standby force" as a last resort to restore democracy in Niger after generals toppled and detained Bazoum on July 26, but said it favours dialogue to defuse the crisis.
Also, ECOWAS defence chiefs met this week in the Ghan's capital Accra to fine-tune details of a potential military operation to restore Bazoum if ongoing negotiations with coup leaders fail.
You May Like: Exciting Naija Movies Coming To Netflix
The leaders of the West African bloc said they have to act after Niger became the fourth West African nation since 2020 to suffer a coup, following Mali, Guinea and Burkina Faso.