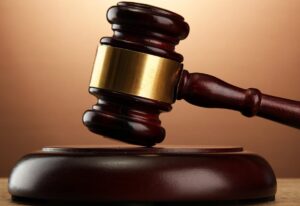 Today, a Federal High Court in Lagos sentenced a freight forwarder, Omoniyi Ajibola Isaac, to five-year imprisonment for the unlawful export of drugs.
The freight forwarder was accused of exporting 27.5250 kilograms of Cannabis Sativa known as Marijuana.
The presiding judge, Justice Ambrose Lewis-Allagoa, gave the judgment after the accused pleaded guilty to the charges made against him.
READ ALSO: CBN Provide Regulations For Establishing Of Banks, Others
The 37-year-old convict was arrested during the prohibited leave on January 11, 2022, during the examination of cargo for export at the NAHCO Export Shed of the Muritala Mohammed International Airport, Ikeja, Lagos.
The prosecuting counsel requested the judge to sentence him by section 11(b) of the National Drug Law Enforcement Agency Act of 2004 which he contravened.
His defense counsel however pleaded for a non-custodial sentence or an option of a fine as his client was a first-time convict with no previous criminal or conviction records.
Justice Lewis-Allagoa gave the convict a fine option of N500,000 instead of jail terms.