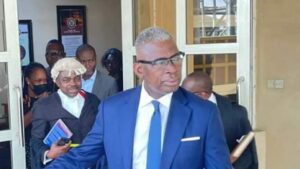 Justice Mojisola Dada of the Special Offences Court sitting in Ikeja on Tuesday adjourned the trial of a former Lagos state Commissioner of Justice, Olasupo Shasore till April 4, 2023.
Shasore was arraigned by the Economic and Financial Crimes Commission (EFCC) on a two-count charge bordering on alleged bribery of public officers.
READ ALSO: Breaking: Kidnapped Benue Commissioner, Ekpe Ogbu Regains Freedom
The accused had pleaded "not guilty" to the charges brought against him and the prosecuting counsel, Bala Sanga, informed the court that he was ready to proceed with the trial.
The lead defense counsel, Chijioke Okoli, informed the court that they had witnesses in court but requested an adjournment to procure some documents from the prosecution.
The prosecution confirmed the request to procure the documents from the defense and accepted the request for adjournment which the judge granted.
The first count against the former commissioner reads, "That you, Olasupo Shasore, SAN, on or about the 18th day of November 2014 in Lagos, within the jurisdiction of this Honourable Court, corruptly gave the sum of USD100, 000.00 (One Hundred Thousand United States Dollars) to one Mrs. Olufolakemi Adelore (then Director, Legal, Federal Ministry of Petroleum Resources) on account of the role she played in the arbitral proceedings instituted by Process and Industrial Developments Limited (P&ID) against the Federal Ministry of Petroleum Resources."
The second count reads: "That you, Olasupo Shasore, SAN, on or about the 18th day of November 2014 in Lagos, within the jurisdiction of this Honourable Court, corruptly gave the sum of USD100,000.00 (One Hundred Thousand United States Dollars) to one Mr. Ikechukwu Oguine (Secretary to the Corporation and Coordinator, Legal Services, NNPC) on account of the role he played in the arbitral proceedings instituted by Process and Industrial Developments Limited (P&ID) against the Federal Ministry of Petroleum Resources."