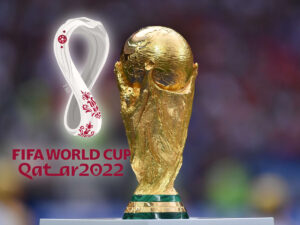 Only a few days to the quarter-finals of the FIFA 2022 World Cup and there is a lot of pressure on teams to win the final prize money.
Although it is an honor for any team that wins the World Cup as they get to hold the title for the next four years, it is also a thing of pride to win the final prize money from the total prize pool of $440 million.
FIFA had revealed that the total prize pool for the Qatar 2022 would be $440 million to be shared among winning teams.
READ ALSO: Qatar 2022: Samuel Eto'o Apologizes, Opens Up On Fight With YouTuber
The association also distributed $1.5m for each participant before the start of the cup, to cover preparation costs.
According to FIFA, the winning team would receive a $42 million grand prize and the first runner-up would receive $30 million.
The second and third runner-ups would receive $27 million and $25 million respectively while the teams that lost in the quarter-finals (5th – 8th positions) would receive $17 each.
The teams that lost in the round of 16 (9th – 16th positions) would receive $13 million each and the teams eliminated in the group stage (17th – 32nd positions) would receive $9 million each.
The prize money would be paid to the national association of each team that would receive the prize money and may decide to give the players a percentage.
The World Cup is scheduled to end on December 18 with the quarter-finals starting on December 9 with teams like Argentina, England, France, Brazil, and others already in the quarter-finals.