Dani Carvajal has criticised Spanish FA president, Luis Rubiales, for his unsolicited kiss on Jenni Hermoso at the Women's World Cup.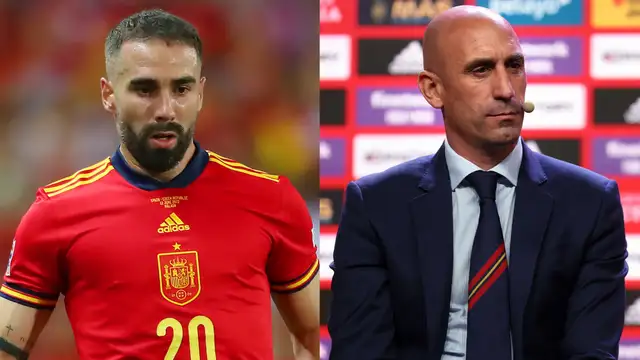 The Real Madrid defender has become the latest player to criticise Rubiales for his behaviour at the Women's World Cup, when he kissed Jenni Hermoso after Spain beat England to win the trophy.
Spain's men's captains, Alvaro Morata, Cesar Azpilicueta, Rodri and Marco Asensio, have already issued a statement condemning Rubiales.
Carvajal has now shared his thoughts while on international duty with La Roja for Euro 2024 qualifiers against Georgia and Cyprus.
"I want to make a little reference to the statement we issued yesterday as a group.
"Our president was not in line with what a president should be at a celebration," he told reporters.
"He had a couple of situations that are not typical of the moment, nor of a president.
"All of this has created a significant media stir and it is a shame that it has tarnished the title achieved by the ladies."
Inappropriate Gestures
Carvajal was quizzed further on why Hermoso was not named in the statement by Spain's captains.
However, he offered the following explanations.
"What we reject is what I'm saying, those inappropriate gestures from the president," he added.
"It is a shame that it spoils or overlaps the world title because it is a very important feat for our football.
"It has not been good for the image of Spanish sport."
There have already been changes in the wake of Rubiales' kiss, with more to come, as the fallout continues.
World Cup-winning manager Jorge Vilda, who faced a mutiny before the competition when 15 players threatened to quit the squad and also applauded Rubiales during a speech where he refused to resign, has been sacked and replaced by Montse Tome as head coach.
Tome is, however, the first-ever female head coach to be appointed by Spain.
The RFEF has also apologised to the football world for Rubiales kissing Hermoso.
Read more: Erik ten Hag Unmoved On Reasons For Dropping Jadon Sancho
Also, this concedes that the damage done to Spanish football has been "enormous".
However, pledges have been made to turn the spotlight back on their triumphant women's team.
Spain's world champions are due to return to action under Tome for the first time on Friday, September 22 against Sweden in the Women's Nations League.
Digital World: Nigerians Performance On Digital Platform