Spain national team manager Luis de la Fuente provided update on Gavi's injury amid claims of burnout.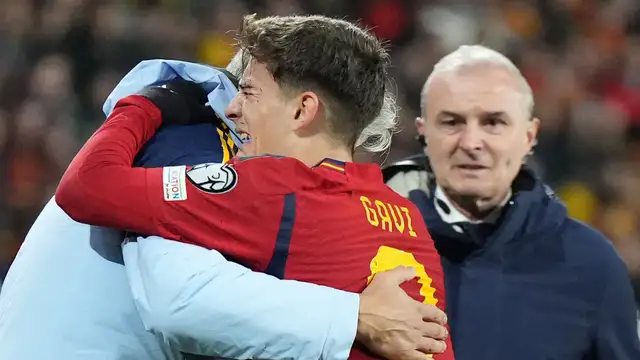 The Spanish manager claimed that the Barcelona star was perfectly fresh ahead of the game.
He suggested that the injury, though unfortunate, had nothing to do with the player being burned out.
The 19-year-old has appeared in 15 matches for Barcelona in the ongoing season out of which he started in 13 games.
Yet the national team manager felt that the injury was a misfortune for the player and also the team and had nothing to do with the payer being fatigued.
However, the midfielder was substituted after just 26 minutes against Georgia when he was clutching his knee.
He broke down in tears as Spain's medical team helped him leave the pitch.
While an official update is yet to arrive on the teenager's condition, he has likely suffered a tear of his anterior cruciate ligament and could be ruled out of the season.
Speaking to reporters after the game, De La Fuente said, "It is a very difficult and very hard moment, for Gavi and Barça, but also for the national team and for me.
"We are destroyed but football has these things, this is the ugly part and it is something uncontrollable.
"It seemed that we had lost.
"The blow was nothing. It was a bad gesture.
"It was due to control. He stepped wrong and his knee went.
"This can happen in any situation. It was an accident, a misfortune.
Read more: Barcelona Keeping Tabs On Girona Boss Michel Sanchez
"He was perfect to play. He was fresh and phenomenal.
"However, he had just not played the weekend and had no problem.
"With another player, we would be regretting it just as much."
Digital World: Nigerians Performance On Digital Platform