Manchester United have released a statement acknowledging the domestic abuse allegations made against winger Antony.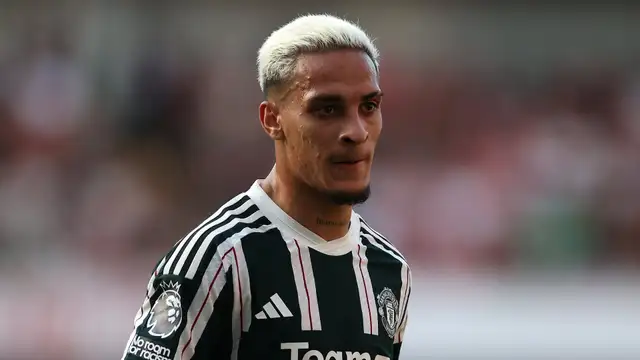 United had stayed silent after Antony was accused of domestic violence by his ex-girlfriend Gabriela Cavallin in June.
They had not made any official comment after she gave more details of the player's alleged behaviour.
This includes threats to throw her out of a speeding car, cutting her finger and punching her breast implant.
Antony has released two separate statements denying the allegations of violence.
Also, he had been called up by Brazil for their upcoming internationals.
However, after Brazilian website UOL published Cavallin's account, the winger was dropped from the squad.
The club finally released a statement on their official website on Wednesday, which read:
"Manchester United acknowledges the allegations made against Antony and notes that the Police are conducting enquiries.
"Pending further information, the club will be making no further comments.
"As a club, we are taking this matter seriously, with consideration of the impact of these allegations and subsequent reporting will have on survivors of abuse," the statement read.
United's statement came a day after several domestic abuse charities criticised the club for allowing Antony to continue to play and train following the accusations in June and then this week, when Greater Manchester Police confirmed it was making enquiries into the allegations.
Criticism
The club faced huge criticism last month after it was reported that they were preparing to reintegrate Mason Greenwood into the squad six months after charges of attempted rape, assault and coercive and controlling behaviour against the striker were dropped.
Manchester United eventually decided that Greenwood could not continue his career at the club and he has joined Getafe on loan.
Andrea Simon, director of End Violence Against Women Coalition, said: "The world is watching Manchester United to see how one of the biggest clubs responds to these latest reports of domestic abuse.
"We once again call on the Premier League and FA to take meaningful action as it is clear that these are not incidents they can take in isolation.
"It is part of a pattern of behaviour within a culture that enables footballers to perpetrate violence against women with impunity."
Domestic Abuse
Also, the director of strategic insights and partnerships at Refuge, Tracy Blackwell, stated: "Refuge is deeply concerned by the number of domestic abuse allegations involving high profile sports figures, such as footballers, that have been emerging in the media over the last few months, and the responses that clubs have had to these.
"Powerful men so often use their status and their wealth to silence women.
"It is important that the FA, Premier League, and clubs make it clear to their fans, that they do not condone any forms of violence against women and girls.
"Domestic abuse is a crime and should be treated as such.
"Swift action needs to be taken to adopt a zero-tolerance policy to abuse and address this culture of violence against women and girls within football".
Read more: Erik ten Hag Unmoved On Reasons For Dropping Jadon Sancho
Women's Aid also issued United with a warning over the potential consequences of continuing to play Antony, who is under contract at Old Trafford until 2027.
Digital World: Nigerians Performance On Digital Platform