One of the promises of the ruling All Progressives Congress (APC) is to tackle the level of insecurity in Nigeria.
President Bola Tinubu is taking a shot at this challenge that has bedeviled the nation for years.

He has sacked all the serving service chiefs.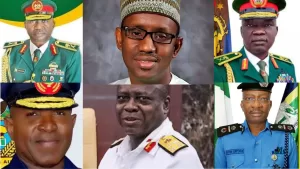 President Bola Tinubu sacked all serving service chiefs, just 22 days after resuming office.
Also, he has immediately appointed new service chiefs to take over.
Read Also: Tinubu Appoints 20 Special Advisers
This was stated in a release received on Monday, from the Director of Information, office of the Secretary to the Government of the federation, Willie Bassey.
According to the statement, President Tinubu, approved with immediate effect the retirement of all Service Chiefs and the Inspector-General of Police, Advisers, Comptroller-General of Customs from Service.
He also approved the appointment of their replacements as well with immediate effect.
The move by the President followed persistent calls by civil society organisations that the security architecture needed to be rejigged.
The newly appointed Officers are:
NAME/APPOINTMENTS
1 Mallam Nuhu Ribadu National Security Adviser
2 Maj. Gen. C.G Musa Chief of Defence Staff
3 Maj. T. A Lagbaja Chief of Army Staff
4 Rear Admirral E. A Ogalla Chief of Naval Staff
5 AVM H.B Abubakar Chief of Air Staff
6 DIG Kayode Egbetokun Acting Inspector-General of Police
7 Maj. Gen. EPA Undiandeye Chief of Defense Intelligence
Furthermore, the statement read: "Mr President has also approved the following appointments".
NAME APPOINTMENTS
1 Col. Adebisi Onasanya Brigade of Guards Commander
2 Lt. Col. Moshood Abiodun Yusuf 7 Guards Battalion, Asokoro, Abuja
3 Lt. Col. Auwalu Baba Inuwa 177, Guards Battalion, Keffi, Nasarawa State
4 Lt. Col. Mohammed J. Abdulkarim 102 Guards Battalion, Suleja, Niger
5 Lt. Col. Olumide A. Akingbesote 176 Guards Battalion, Gwagwalada, Abuja
Similarly, the President has approved the appointments of other Military Officers in the Presidential Villa as follows:
Read Also: President Tinubu Officially Appoints His Chief Of Staff, SGF
NAME APPOINTMENTS
1 Maj. Isa Farouk Audu
(N/14695) Commanding Officer State House Artillery
2 Capt. Kazeem Olalekan Sunmonu (N/16183) Second-in-Command, State House Artillery
3 Maj. Kamaru Koyejo Hamzat (N/14656) Commanding Officer, State House Military Intelligence
4 Maj. TS Adeola (N/12860) Commanding Officer, State House Armament
5 Lt. A. Aminu (N/18578) Second-in- Command, State House Armament
Furthermore, the President also approved the appointments of two (2) additional Special Advisers, and two (2) Senior Assistants, namely:
NAME APPOINTMENTS
1 Hadiza Bala Usman Special Adviser, Policy Coordination
2 Hannatu Musa Musawa Special Adviser, Culture and Entertainment Economy
3 Sen. Abdullahi Abubakar Gumel Senior Special Assistant , National Assembly Matters (Senate)
4 Hon. (Barr) Olarewaju Kunle Ibrahim Senior Special Assistant, National Assembly Matters (House of Representatives)
Finally, the President has approved the appointment of Adeniyi Bashir Adewale as the Ag. Comptroller General of Customs.
"It is to be noted that the appointed Service Chiefs, the Inspector-General of Police and the Comptroller General of Customs are to act in their positions, pending their confirmation in accordance with the Constitution of the Federal Republic of Nigeria."
See how Tinubu plans to tackle insecurity in Nigeria