Nigerians may have to tighten their belts and prepare for more difficult times ahead as trouble is looming.
What looked like a rumor is fast becoming true.
Petroleum Tanker Drivers of the NUPENG union are set to pull out of a marriage that is no longer convenient.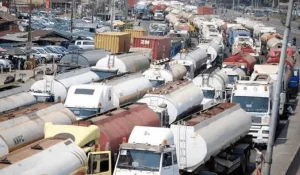 The Petroleum Tanker Drivers arm of the Nigeria Union of Petroleum and Natural Gas Workers is threatening to pull out of NUPENG.
PTD declared that it would pull out of the oil union if NUPENG's National President, Williams Akporeha, and its General Secretary, Olawale Afolabi, failed to resign from their positions.
Have You Read: NLC, TUC Strike Stalls Arraignment Of Ex-CBN Governor, Emefiele
The tanker drivers disclosed this in a statement issued in Abuja and jointly signed by Gbenga Olawale and Adekunle Rufai of PTD, Ibadan Depot.
The statement said the drivers are going on strike and protesting across the country, putting plant leaves in front of their trucks.
They alleged that the NUPENG president lacked the required competence to lead the union because he was not a member of the oil union.
According to them, Williams was a cook in an oil company from the formal sector and was sacked from the company while holding the office of the national treasurer of NUPENG.
They further alleged that he was later drafted into the Petrol Station Workers Union of NUPENG to enable him to contest the election as NUPENG President.
Implication Of This Strike
It is good that these petroleum tanker drivers are trying to set things right in their union but the masses will suffer.
This is because with the strike there is bound to be a shortfall in the supply of petroleum products across the nation.
It also means that filling stations may start hoarding the product or hike the price.
So even though the prices of things have already gone up and people are struggling to cope, the days ahead may be more difficult.
You May Also Like: NUPENG, PENGASSAN direct members in Chevron to shut down operations
NUPENG and the petroleum tanker drivers must try to reach a compromise for the people's sake
Better yet, the federal government should try and resolve mediate between the two parties.