Around the world today, lots and lots of energy companies are performing well but some have performed more than others.
Using various yardsticks, all these companies have been rated based on their performance.
The S&P Global Commodity Insights has ranked Top 250 Global Energy Companies for the previous year.
This ranking of the top 250 global energy companies is based on their asset worth, revenues, profits, and return on invested capital.
In this article, we shall only concern ourselves with the top 10 global energy companies on this list.
Have You Read: Crude Oil Prices: Brent, WTI Rise By 0.97%, 0.74%
Top 5 Global Energy Companies
Saudi Arabian Oil Co (Rank 1)
Saudi Arabian Oil Company operates as an integrated oil and gas company in the Kingdom of Saudi Arabia and internationally.
The company is worth $576256 million in assets, and $400149 million in revenue and makes a profit rate of $105303 million.
As of December 31, 2021, its reserves included 253.6 billion barrels of oil equivalent, including 196.9 billion barrels of crude oil.
Condensate worth 25.2 billion barrels of NGLs, and 194.5 trillion standard cubic feet of natural gas.
The company also has 530 reservoirs within 137 fields distributed throughout the Saudi Arabian Kingdom and its territorial waters.
Saudi Arabian Company operates through two segments, Upstream and Downstream.
The Upstream segment explores, develops, produces, and sells crude oil, condensate, natural gas, and natural gas liquids (NGLs).
Saudi Arabian Oil Company was founded in 1933 and is headquartered in Dhahran, the Kingdom of Saudi Arabia.
Petroleo Brasileiro SA – Petrobras (Rank 2)
Petroleo Brasileiro S.A. is a Brazilian company that produces and sells oil and gas in Brazil and internationally.
The company has a profit margin of $20148 million, an asset base of $183773 million, and a revenue generation capacity of $85501 million.
It engages in prospecting, drilling, refining, processing, trading, and transporting crude oil from producing onshore and offshore oil fields.
Petrobras was incorporated in 1953 and is headquartered in Rio de Janeiro, Brazil.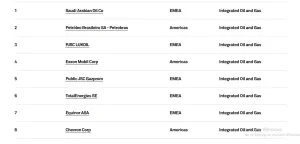 PJSC LUKOIL (Rank 3)
At the 3rd spot on this list is PJSC LUKOIL, a Russian oil company that produces crude oil and gas.
PJSC LUKOIL, together with its subsidiaries, engages in the exploration, production, refining, marketing, and distribution of oil and gas.
The Russian oil company operates a retail network of 5,005 filling stations in 19 countries.
PJSC LUKOIL is worth $123467 million in assets and was founded in 1993 and is headquartered in Moscow, Russia.
It has a profit margin of $13911 million and generates $166700 million in revenue.
Exxon Mobil Corporation (Rank 4)
Occupying the 4th spot is none other than America's Exxon Mobil Corporation, a company founded in 1870 with headquarters in Texas.
Exxon Mobil Corporation explores and produces crude oil and natural gas in the United States and internationally.
It operates through Upstream, Downstream, and Chemical segments.
The company is also involved in the manufacture, trade, transport, and sale of crude oil, natural gas, and petroleum products.
Exxon Mobil's assets are estimated to be worth around  $338923 million.
You May Also Read: 5 Reasons Our Nigeria's Crude Oil Production Declines
Public Joint Stock Company Gazprom (Rank 5)
Public Joint Stock Company Gazprom also known as Public JSC Gazprom, is an integrated energy company in Russia.
The company operates through the Production of Gas, Transportation of Gas, Distribution of Gas, Gas Storage, Production of Crude Oil and Gas
Public JSC Gazprom is worth $486463 million in assets and makes a profit of $37455 million with a revenue base of  $184198 million.