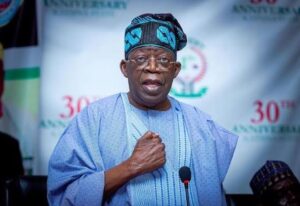 Presidential Candidate of the All Progressives Congress (APC), Bola Ahmed Tinubu, has promised to work on the education sector if elected into office.
He promised that there would be no strikes or pause to educational calendars and students would only spend the number of years allocated for their course, in school.
Tinubu said this in Umuahia, Abia State during his presidential rally on Tuesday.
READ ALSO: COVID-19: 170,000 Deaths Recorded In Eight Weeks –WHO 
"To you students who are here, I appreciate your efforts today, you will not spend eight years doing a course of four years again.
" I pray that God will give you the encourage to go to the poll on the election day and vote for APC," Tinubu said.
He also promised the provision of jobs for the youths and promised that owing of pensions and gratuities would no longer exist.
He said, "Hope is on the way, I want our youths to know that unemployment will be a thing of past in the coming year.
"I will be a father of all, we will bring back our straying party men because what is binding us together is greater than what divides us."