Salisu Lawan is Usman Bello's son, but he has made himself fatherless with his own hands holding the death tool – a pestle. 
Their home in Akko Local Government Area of Gombe State has now become a remarkable place because of the sad incident of a young man killing his own father. 
The 22-year-old man is in police custody, and he has shared his own side of the story.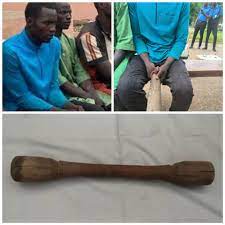 On August 9, 2023, a spokesman for the Gomber Police Command, ASP Mahid Mu'azu Abubakar, said Lawan was paraded alongside other detainees arrested for a variety of offences in the state.
Lawal had hit his father, 65, on the head with a pestle while making a witchcraft accusation.
Allegations Of Witchcraft
It is not the first time that the police are treating cases of this manner.
According to the spokesman for the police, there is rising concern over murder instances connected to witchcraft.
He said victims claimed to have seen other persons in their nightmares and believed they were to blame for their predicament.
This, he highlighted, often led to murdering of the purported witch.
Also, ASP Abubakar claimed that there was another incident involving a young man who attacked an elderly man and left his body in a river. That story is also connected to witchcraft.
The elderly man had asked the young man to help him cross a stream and then the attack followed.
Trial By Ordeal
It is a complicated matter to accuse someone of witchcraft and then kill the individual.
You see, the problem of witchcraft is not covered by the law.
As a result, ASP Abubakar stated that CP Etim and the Police disapprove of such acts.
Also, he pleaded with the public to refrain from engaging in them.
"You cannot do what we call trial by ordeal, bringing somebody and taking him to herbalists that he must confess that he is a wizard.
Also Read:  Bazoum: Niger's President Shares Stories Of Bad Treatment In Jail
"That is trial by ordeal and is not known in the law.
"In a case when a person confesses by himself that yes, I am this, the law can work on him and we know what to do with him," ASP Abubakar explained.
Furthermore, he requested that traditional rulers and religious leaders should preach against trial by ordeal because it was a serious offence.
It could land the person that committed it, or any party involved, in court, he added.
Watch As Nigerians React To The Killings In Plateau