Rumours had been rife that the DSS found Wike unfit for a ministerial position, and communicated the decision to the president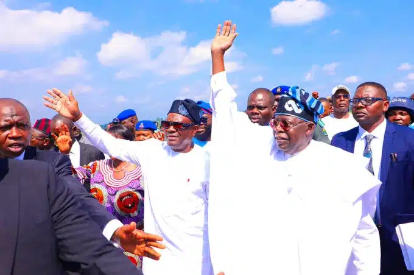 Attempts to kill the already a popular narrative that the Department of State Services (DSS) removed the name of former Rivers State Governor, Nyesom Wike from the ministerial list, have begun.
This is as supporters of the immediate past governor have been told to discountenance the insinuations.
The coordinator of Bola Ahmed Tinubu Vanguard (BAT-V), and chieftain of the All Progressives Congress (APC) in Rivers State, Tony Okocha, made the call in Port Harcourt on Monday.
According to Okocha, an allegation that the former Governor Wike raised his voice against President Bola Tinubu when he was informed that his (Wike) name did not scale through the DSS scrutiny.
Okocha said the rumour was a handiwork of mischief makers, noting that the author of that "fake news" is neither a staff of the Presidential Villa, nor an official of the DSS.
He asked: "Where, then, did he get the story that Wike's name was removed by the security service?"
See This: Explosion: Many Feared Dead As Petrol Tanker Explodes In Ondo
According to Okocha, the newspaper that the said story was published, was the same media outfit that carried fake news that former President Muhammadu Buhari was dead some years ago.
"This later turned out to be fake. Nigerians should disregard such fake news, as there is no iota of truth in it."
Okocha, who confirmed that Wike's name was still on the ministerial list, questioned who was nominated to replace the former governor to fill the Rivers State ministerial slot, if the fake news was real.