Students of the Faculty of Law, University of Calabar throng the administrative block of the school to protest the alleged constant sexual harassment by one of the lecturers in the institution, Professor Cyril Ndifon.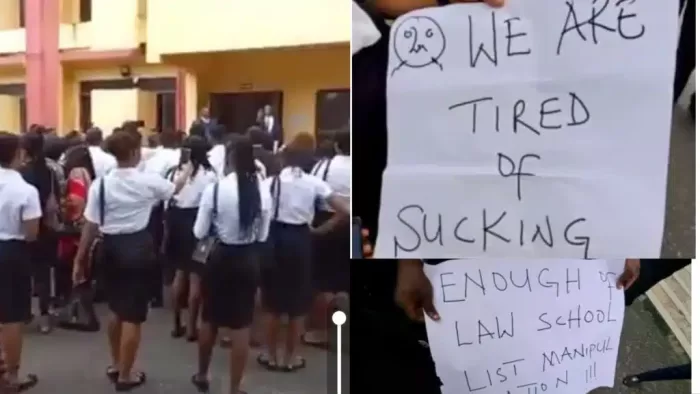 The students alleged sexual harassment from the dean in addition to facing threats and suppression from the institution's authorities.
Enough Is Enough
They held placards that read: 'Enough of Law school list manipulation.' 'Prof. Ndifon must go for our sanity.
Others read: "Law girls are not Bonaza, Prof Ndifon should stop grabbing us. The faculty of law is not a brothel" chanting enough is enough".
In 2015, Professor Cyril Ndifon was suspended by the school's Vice Chancellor, Professor Ivara Esu for sexually assaulting a 20-year-old 400-level student.
You May Like: BBNaija All-Stars: What Fans Think About Uriel Eviction
The professor's suspension came after the mother of the victim, Irene Akpan, in a letter sent to the university, alleged that the Professor had raped her daughter, between 3 and 5pm on August 29, 2015 at his private office on the top floor of the faculty building.
However, he was reinstated back into the institution in December, 2022.
But again, he is in the escapade and the students want him out of the institution.
Video below:
Unical female Law students have called out their Dean, Prof Cyril Ndifon. Right now they are being threatened and shushed by the establishment.

Lend your voice! #CyrilNdifonMustGo#ProtectOurGirls pic.twitter.com/xrlsB20ctN

— Where is Chijioke? (@Ada_mummyya) August 14, 2023