While Nigerians are lamenting over the hardship caused by the continuous increase in fuel price with Naira decline. 
Another bombshell is dropped by UNILAG as it prepares to raise tuition.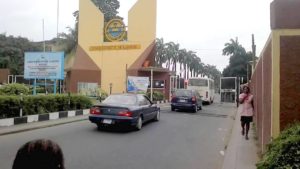 Nigerian students and their parents will soon begin to feel the heat of the Bola Tinubu's administration.
As the country is battling the rise in fuel prices and dollar price, getting education in a federal institution may soon be unaffordable.
Before now, the average tuition fee for students in the University of Lagos (UNILAG) used to be about ₦19,000, but this may increase by almost 10 times.
UNILAG has announced an adjustment in the obligatory fees for both returning and new students of the institution.
The university management communicated the decision via a statement issued to newsmen on Friday.
See This Also: GWR: Nigerian Teenager Breaks Record For Eating Watermelon
According to the statement, the upward review in the fees is with effect from September 1, 2023.
FULL STATEMENT
"After careful deliberations with its stakeholders comprising of students, parents/guardians, staff unions and alumni among others, the university of Lagos management has reviewed the obligatory fees (mandatory charges for an academic session/year) of new and returning undergraduate students of the institution.
"The adjustment in these  fees which will take effect from first semester 2023/2024 academic session, is in view of the prevailing economic realities and the need for the university to be able to meet its obligation to its students, staff and municipal service providers among others.
"It is also pertinent to note that the university has not increased its obligatory fees in recent years.
"Management therefore seeks the kind understanding and support of students and other stakeholders with assurance of its commitment toward ensuring that students get the best learning experience," it stated.
The statement also indicated ₦176,325 as mandatory charges for one academic session for courses with laboratory and studio.