President Bola Tinubu's decision to fully reopen the Seme land border has resonated well with many who have applauded him for making economic policies geared towards improving the lives of many Nigerians.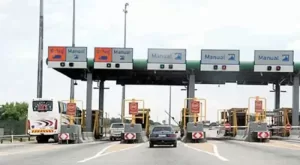 At a time like this when the nations' economy is at it's lowest, reopening Seme border has been considered as a good strategy because it would allow businesses to access more markets.
With this, a major end has come to economic strangulation that has relegated the manufacturing industry in Nigeria.
Read Also: FG Approves Reopening Of Seme Border For Vehicle Importation.
Manufacturers can now begin to source for raw materials from neighbouring countries easily while exploring options for expansion.
An open border enables the free movement of people and goods between jurisdictions with no restrictions on movement.
The manufacturing sector in Nigeria is at the brink of a collapse occasioned by the rising cost of production.
Lack of infrastructure, FX shortage, huge tax burdens, Naira devaluation, and the Naira redesign policy of the Central Bank of Nigeria, among other issues add to the manufacturers woes
But this strategic move of the government, will serve as a relief in this trying period.
The opening of the Seme border will lead to more job creation and business competition among other things.
Benefits Of Reopening Seme Border
COMPETITION WITH DOMESTIC PRODUCTION
Apart from the need to curtail the smuggling of goods into the country, the closure of the borders was to promote in-country production and bolster the country's export drive.
For instance, local production of rice through the Anchor Borrower Programme (ABP) was introduced encouraging consumers to embrace made-in-Nigeria products and banning forex supply for some items.
Opening more land borders could trigger increased competition with local production if the importation of international goods is not properly regulated, defeating the purpose for which the border was initially closed.
A business analyst Chukwuemeka Ezirim, told iBrand TV, that the importance of making locally produced goods more competitive should be encouraged.
"So, the government can instead channel its energy and incentivise productivity by improving the state of infrastructure, increasing access to finance and FX, improving security, revamping the energy sector," he said.
He said the government needs to prioritise border security with the right technologies and manpower.
According to him, the impact of the closed borders hurt the Nigerian economy even as food inflation skyrocketed from 13.17% in August 2019, reaching a peak of 22.95% in March 2021 before decelerating.
"Therefore, the conversation should be tilted towards securing the border rather than completely shutting the borders," Ezirim added.
Small and medium-sized businesses (SMEs), especially in border communities, were severely impacted by the border closure.
According to PwC, SMEs contribute 48% of the national GDP and account for 96% of businesses and 84% of employment in Nigeria.
The land borders contribute a great deal to the sector's ease of doing business.
It will also reduce the burden and cost of transporting goods for businesses in states without inland container depots.
Read Also: Buhari Orders NIS To Tighten Border Securtiy Ahead Of Elections
BOOST INTRA-AFRICAN TRADE
For Nigeria, reopening land borders would help bolster trade partnerships with other African countries, thereby facilitating its commitment to the Africa Continental Free Trade Area (AFCFTA).
AFCFTA is a trade agreement between AU member states to create "a single continental market for goods and services, with free movement of persons and investments".
AFCFTA agreement – which aims to boost intra-African trade – was ratified by Nigeria in November 2020, about a month before the country reopened the first-four land borders.
In 2020, 19% of Nigeria's world exports and 8% of world imports were intra-Africa, according to Trade Law Centre NPC (tralac), an independent think tank group.
In November 2021, Buhari said, under the African Continental Free Trade Area (AfCFTA), Africa could double its intra-African trade by 2030, reduce reliance on imports and therefore create more jobs within the continent.
Reopening the Seme border would increase the mobility of Nigeria's import-export transactions with other African countries in the face of geopolitical realities such as the Russia-Ukraine war.
Nigeria would further enhance its export earnings as more locally-produced goods leave the country through its land borders to other African countries.