People who rely on Seme border to bring in vehicles into Nigeria will soon have the opportunity to do it legally without being chased by security agencies.  
That border will now offer opportunities to Nigerians to bring in vehicles, but it will make so much sense when it reduces the cost of vehicles.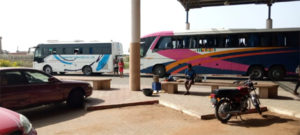 Indeed, the Federal Government has authorised the reopening of the Seme land border for vehicle importation.
The Director of Road Transport in the Ministry of Transportation, Ibrahim Musa, made the announcement on Wednesday.
Musa revealed at a meeting of the Economic Community of West African States, ECOWAS, that the development was the result of complaints from freight forwarders operating at the Seme border.
Read Also: Subsidy Removal: Malpass Applauds Tinubu's Policy
The conference was organised by Nigerian and Benin Republic officials.
"I was here with the former Minister of State for Transportation when the freight forwarders pleaded for the border to be reopened," he said.
"He claimed that this would improve the free flow of goods and services.
"The former minister ordered us to write a memo to that effect. It was thought upon and forwarded to the government."
Decrease In Revenue
Dera Nnadi, Customs Area Controller of Seme Border Command, also addressed at the ceremony.
He bemoaned that the service has seen a decrease in revenue since the previous administration stopped automobile importation across land borders.
Read Also: NGX: Stock Market Appreciates By ₦52bn
"The former Minister of Transportation has responded to some of our requests and from stakeholders," Nnadi stated.
"He promised to take them to the FEC, one of which is how to fully open this border.
"The Ministry informed us that the memo, which was written to the FEC, was adopted, and would be given to the new government.
"He assured us that all of our requests had been granted."