United States-based model, Anita Brown, believes she knows why singer, David Adeleke, professionally known as Davido, took Chioma Rowland as his wife.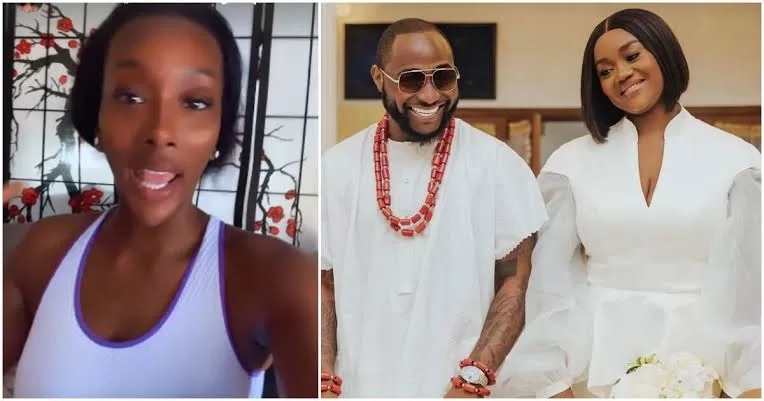 On Tuesday night, Anita Brown brought fire to the social media space as she accused Davido of impregnating her.
In a viral video clip, Anita claimed that she did not know that the singer was married to his long-time girlfriend, Chioma Rowland.
Messed Up Marriage
According to her, she was not interested in messing up Davido's marriage, saying that the marriage was already messed up, as the singer was always with her whenever he visited America despite being married.
She further stressed that they had been together since 2017, claiming the singer wanted her to help him get back on his feet after losing his first son, Ifeanyi Adeleke.
Why Davido Married Chioma
However, in a social media post on Friday, Brown alleged that Davido would never have married Chioma if their son Ifeanyi had not died.
You May Like: Police To Fish Out Officers Escorting Man With Cow – Force PRO
According to her, it was the tragedy that forced Davido's hands into marriage.
"Would you have married if your child didn't die?"
"That's why you got bad luck, and bad things keep happening to you. YOU ARE THE DEVIL! YOUR ENTIRE EXISTENCE," Anita stated in a post on her page tagging Davido.
Satanic Fans
"This is what y'all call a good example in Nigeria, Y'all should be ashamed, Pathetic! Y'all must be some satanic fans.
Also Read: Veteran Yoruba Actress, Iyabo Oko Dies At 62
"I don't ever need to seek vengeance because what God has done to you and will do to you later will show you. And that's enough for me."
The alleged baby mama also accused the international singer of always begging women to get what he wanted.