Police: Egbedun flared up as he couldn't conceal his anger and disgust towards the incessant extortion of policemen from the youths of the state.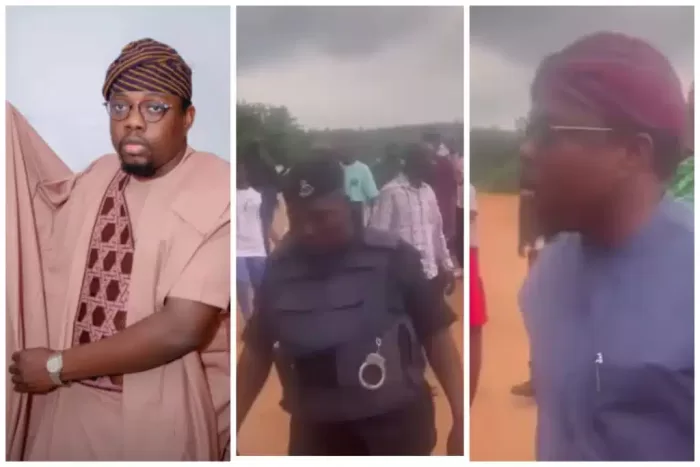 The Osun State Speaker of the House of Assembly, Adewale Egbedun, has expressed displeasure at some policemen extorting money from passengers in the state.
A viral video that surfaced online on Friday, shows some police officers covering their faces as a voice in the background claims they were extorting money from youths.
Refund From The Police
According to him, the speaker collected back the money from them, and he was also seen in the video urging the youths to make a video of the police officers.
The illegal act of police officers extorting money from people is no longer new, which many netizens pointed out while reacting to the video.
deevasesecret wrote: "We all know that the first job description of a Nigerian police is extortion"
officialmrchalenze wrote: "Nigerian police will never change from evil and bribery"
nafeeesattheoriginal wrote: "Seriously this is not funny ,but Mr speaker should not pretend Asif he doesn't know that the police exploit people on the road in Osun state, except if he was waybilled from Lagos to become speaker in Osun state."
agbomejitunde wrote: "You've done well there Mr speaker but there are still a lot to do by showing Mr Governor the road so he can do something about it"
instawitefe wrote: "Will you blame them? This same leaders dont pay they salaries. In as much as what they do wrong,we need to deal with the rootcause of some of this stuff"
bestdoggie9 wrote: "Mr Speaker wey Dey shout Video them, you self Dey embezzle money & nobody Dey video you o"
tonychizophat wrote: "Speaker please video the bad road and show the governor as well"
merit42 wrote: "If the government is paying them well i don't think this nonsense will be happening, I'm not trying to support their bad behaviour, this were same people we were trying to help during the endsars but what did they do?
They decided to kill the harmless youth fighting for their right, this is just the beginning they will all learn in a very hard way nonsense and ingredients."
Watch The Video Here