Corruption and lackadaisical attitude of government officials are contributors to Nigeria's economic challenge.
Touring the ports facilities, the Minister of Marine and Blue Economy, was bewildered by the level of waste the system encourages.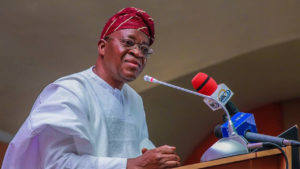 As efforts are in top gear to reduce Nigeria's debt burden occasioned by too much borrowing.
The Minister of Marine and Blue Economy, Adegboyega Oyetola, has warned that there would be zero tolerance for corruption.
Have You Read: "Continue From Where Oyetola Stopped", Tinubu Tells Adeleke
Oyetola, made the statement during his maiden visit to the Nigeria Shippers Council (NSC) in Lagos on Wednesday.
The Minister wondered why there were so many abandoned cargoes at the Lagos ports.
Nigeria Is Losing Revenue
He said, he had observed while on a tour at the Tincan and Apapa ports, that there were over 6,000 abandoned cargoes there.
According to Oyetola, these cargoes occupy space, and the country is losing revenue in that regard.
"To have kept cargoes abandoned at the ports for this long is not helping our revenue generation drive."
He said, 2011 till date was a very long time.
"There must be a time frame by which a cargo can stay, otherwise it should be declared abandoned. To have kept a cargo since 2011, is unrealistic and unacceptable.
"Again, I think people have not seen much need for clearing of cargoes if it has accumulated demurrage for one reason or the other.
"It is because it's uneconomical for him or her to clear.
Why Are There So Many Uncleared Cargoes At The Ports 
"Furthermore, based on what we have seen thus far at the Ports, we will be engaging the Nigeria Custom Service (NCS).
"We must resolve these issues as soon as possible."
Oyetola, added that the Nigeria Customs should be encouraged to use scanners more than the physical examination that takes long to be completed.
While advising stakeholders at the ports to desist from corruption, he highlighted that President Bola Tinubu's administration had zero tolerance for such.
You May Also Read: Over Alleged Corruption, NJC Set To Investigate Judge
"I think why importers are not clearing cargoes that has accumulated demurrage is because it is uneconomical for them to clear.
"Such persons will abandon it there but as port regulators, we must encourage early clearance of such cargo," he said.
According to him, corruption is one of the reasons Nigeria's economy is not performing optimally.