The slump of the Naira against the Dollar in the black market has become a source of concern to well-meaning Nigerians. 
They wonder, if there is a magic wand that can be waved to normalise and stabilise the Naira against the dollar.
Sadly, it does not look like all the efforts of President Bola Tinubu has had much impact, seeing how the dollar is rising while Naira continues to fall.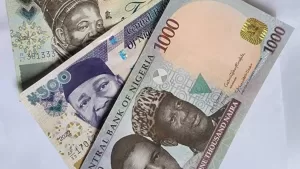 Is there anything that needs to be done, that has not been done, that is the most bugging question on the minds of most people.
The situation in Nigeria, though for some has become normal, but for others, it's a case of the struggle continues.
Have You Read: Black Market: Dollar Trades At ₦925 Against Naira
This is because an end seems not to be in the radar for the fragile Naira, as regaining momentum in the exchange market continues to soar in favour of the dollar.
The Federal Government has done wonderfully well coming up with brilliant policies, unfortunately, these policies would not change things immediately.
Reduce Importation
A major bone that must be cracked, is how we will drastically reduce importation and increase exports.
Importing goods from all over the world is forcing Nigeria to trade in dollars, which is not good for the economy or businesses in Nigeria.
As of today, the dollar in the black market ranges between ₦910 and ₦925 to a dollar buying and ₦915 when selling.
At this exchange rate it is obvious that Nigerians are on the losing side when doing conversion.
This is so because there is heavy reliance on the dollar for international trade which is what is propelling the value upward.
Forex Demand Is Higher Than Supply
So many people are demanding for the dollars while the supply is very low, this and many other factors contribute to what makes the value of the dollar shoot up.
Also, the little Forex available is hoarded and circulated for use among selected few in the country leading to forex scarcity.
You May Also Like: Dollar To Naira Black Market Exchange Rate
When you consider all these and think about the decision of BRICS nations to end use of dollars for international trade, you cannot but hail the ingenious move. Indeed, analysts believe this would help build the value of their various currencies.
Nigeria should start thinking out of the box.
The unification of exchange platforms is not bad, but the effect is yet to be felt in the market.
The table below will show you how things are with our Naira in the past one week.
Dollar to Naira Rate for Past 7 Days
| | | |
| --- | --- | --- |
| Date | Buy | Sell |
| September 5, 2023 | 925 | 912 |
| September 4, 2023 | 918 | 915 |
| September 3, 2023 | 920 | 906 |
| September 2, 2023 | 923 | 917 |
| September 1, 2023 | 920 | 912 |
| August 31, 2023 | 920 | 911 |
| August 30, 2023 | 925 | 912 |