Arsenal's manager, Mikel Arteta, has been urged to drop new signing, Kai Havertz, by Emmanuel Petit, who believes the German is lacking confidence.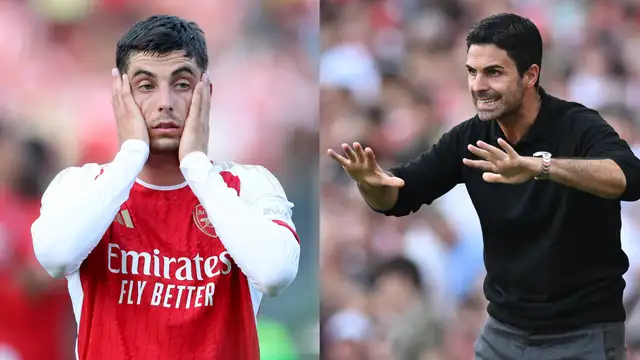 Former Arsenal midfielder Petit believes Arteta should bench new signing Havertz, following his display in Sunday's 2-1 Premier League win over Manchester United.
Petit says he felt sorry for Havertz when watching him against the Red Devils.
He believes a lack of confidence is making him afraid to play his best football.
"I felt pity for him on Sunday…I still believe he has great qualities.
"We haven't seen this since he came to England and he's struggling.
"But Sunday, he was hiding everywhere," the former Arsenal star told Compare.bet.
"If I was Arteta, I would put Havertz on the bench. Not as a punishment – that's very important.
"Not as a punishment. But I would put him on the bench just to step back a little bit.
"He doesn't have the confidence to bring what Arteta wants into the team… He's scared.
"He's scared of attempting things. He doesn't dare to do anything on the pitch at the moment."
Havertz has yet to manage a goal or an assist for Arsenal since the club splashed out £65m (€75m/$81m) to bring him in from Chelsea.
Also, the Gunners will clearly be expecting more from the Germany international.
Read more: Rasmus Hojlund's Message To Manchester United Fans
Mikel Arteta has backed Havertz, amid criticism from a section of supporters.
He has also revealed how he's tried to motivate his new arrival.
Havertz will be hoping he can make an impact when the Gunners return to action against Everton after the international break.
Digital World: Nigerians Performance On Digital Platform