Luke Shaw suggested that signing Harry Kane and Declan Rice this summer would massively improve Manchester United.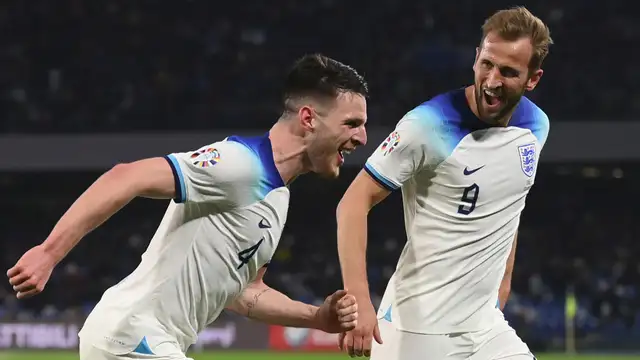 Luke Shaw recently shared a few images on his Instagram story in which he is seen showing Harry Kane and Declan Rice about Carrington.
In order to get ready for their Euro 2024 qualifying match against North Macedonia, the English national team is presently utilising Manchester United's facilities.
Shaw acknowledged on social media that Manchester United would profit immensely if they were able to sign his England team mates during the forthcoming transfer season.
A Decision To Make
Speaking to reporters about the Red Devils' transfer plans, Shaw said: "Yes, [my Instagram post was] half joking. It is a bit of both.
"I know they are both world-class players and I don't know what is going on at their clubs.
"But if it was down to me, I would take them in a heartbeat and they would improve our team massively and help us go to what we want to achieve.
"They have been here the last couple of days and hopefully, they like it and can get used to it!
"It is up to the club and whatever they decide so we have to go from there".
Harry Kane has been linked with a move to Manchester United although the club are yet to initiate talks with Tottenham Hotspur.
Kane's current contract with his club expires next season and if he does not sign a new deal now then Spurs run the risk of losing him for free in 2024.
Read more: Jordi Alba Agrees Contract To Be Reunited With Lionel Messi
Similarly, Rice's future at West Ham is also uncertain with multiple clubs linked to the player.
Manchester United boss Erik ten Hag reportedly wanted to sign the midfielder but due to the delay in the change of ownership the club are yet to place a bid for the player and that has put Arsenal in pole position to sign him.
DIFFERENCE BETWEEN PURE WATER AND SACHET WATER: IT'S FUNNY HOW PEOPLE THINK