The major challenge that has been facing Nigeria as a country, is lack of willpower on the part of past leaders to tackle the hydra-headed insecurity and bring it to a standstill.
This is the opinion of a public affairs analyst, Matthew Olukwu, while speaking on insecurity issues in Nigeria.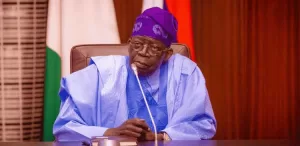 Mr. Olukwu said the constitution says the president of Nigeria is the commander-in-chief of the armed forces and he is responsible for protecting the lives and properties of Nigerians.
Past administrations have failed to achieve this, especially in the north-eastern part of Nigeria.
But for the current administration of Bola Tinubu, the public affairs analyst said "we can not begin to assess this current administration, because a lot has not been done yet".
With that said, he explained that President Tinubu had inherited the insecurity challenges of the past governments which he must make efforts to resolve.
If the past presidents have been able to take tough decisions to resolve situations like Tinubu is doing right now, "not minding whose ox is gored" insecurity would have been solved or reduced.
Government Is Too Slow
With reference to the immediate past administration, "there were many instances where Nigerians speculated that security challenges emanating from the activities of the Fulani herdsmen would not be adequately tackled by the president"
Olukwu pointed out that it took the Federal Government a very long time to designate the Fulani herdsmen as a terrorist organisation.
According to him, this was after they had freely gone on rampage in states like Benue, Kaduna, Zamfara and even Katsina, the then president's home town.
In his opinion, the administration of former President Buhari took too long to designate the Fulani herdsmen as terrorists.
State Policing
Olukwu submitted that Nigeria's security system was poor.
"Only the Federal Government enjoys the monopoly of cohesive power."
According to him, this according to him makes security a cumbersome venture.
Furthermore, he advised the government to adopt state policing, insisting that it will help reduce the menace of insecurity bedevilling Nigeria.
Read Also: Fuel Scarcity, Insecurity: INEC May Postpone Election By Two Weeks- Source
Also, Olukwu said national interest should be the paramount goal and the protection of lives and property should not be sacrificed on the altar of ethnicity or religious affiliation.
Agriculture, the largest economic sector in the country (25.9% of GDP in 2021), has faced serious disruptions due to insecurity in Nigeria.
It is also the largest employer of labour and provides input for various manufacturing companies.
For this reason, he says it will promote food security if the current administration will assure farmers of their safety in their farms.
See how President Tinubu plans to combat insecurity in this video